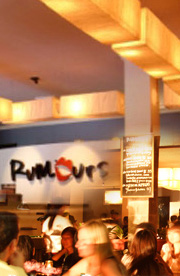 With their bold statement that 'whatever you hear is true' Rumours restaurant in Jl. Oberoi, Bali's famed eat-streat in Seminyak is a place worth a visit!
Rumours is a venue with delicious steaks at very affordable prices. Moved up from their initial concept of only offering quality steaks Rumours has upgraded it's menu with a wide selection of pasta's, pizzas and fresh baked bread. Rumours leaves you with plenty choices of quality food at low prices and a huge bar to enjoy your after dinner drinks. During the week Rumours offers cool tunes from our resident DJ's while the place is packed with both tourists and the huge local expatriate crowd.
After almost 4 years, Rumours still served international flavours with good food, an incredible atmosphere and keeps the prices low. Is a very inviting restaurant with friendly staff members who assist you with every meal. The delicious steak, is one of restaurants' specialties, served with vegetables and many choise of side dish and sauces. Now a days Rumours has expands its menu such as pastas, pizzas, and fresh baked. There is plenty to choose from and you are sure to get your money's worth. All the ingredients and materials, including meat are supplied fresh, while our delicious salad dressings are always made by good hand. Get the set menu good deal at very reasonable price. Try its top quality home-style cooking, it's the things that make you go hmmm. Also provide free home delivery and take away. Energetic and funky tunes with every Wednesday live performance DJ and live music every Friday with TUDE and Friends.
WHAT COOKING
APPETIZER
• FRIED CALAMARI ringlots w/ dipping sauce IDR 30000
• CHICKEN STRIPS With mayo and lemon wedges IDR 19000
• Fresh TUNA SPRING ROLLS with homemade sweet chili and soy souce IDR 19500
• Oven baked eggplant PARMIGIANA With bocchinni IDR 25000
• Grilled CHICKEN WINGS honeysoy and a pinch of chilli powder IDR 25000
• TOMATO SUP w/ grilled bread IDR 21000
• POTATO SKINS choice of smoked beef or bacon IDR 36000
• Fried ENOCI MUSHROOM w/ Smok'd Beef IDR 30000
SALAD
• Rumours HOUSE salad with Thousand Island dressing IDR 19000
• TOMATO AND CHEESE salad w/ basil, olive oil, balsamc vinegar IDR 25000
• FETTA capscium,mushroom w/ balsamic and olive oil IDR 25500
• SALAMI cucumber, tomato,roasted capsicum and boccinni salad IDR 19000
• RARE BLACK PEPPER TUNA salad w/ thousand island dressing IDR 21500
• NEW RARE BEEF salad mixed w/ lettuce & lemon / basil vinaigrette IDR 26500
• CAESAR Salad w/ poached egg and crispy bacon IDR 23000
PASTA
• PARMA HAM & PRAWN Spaghetti Served In A Reduced Cream Sc IDR 49000
• Spaghetti AOP,Garlic,Olive oil,Chili IDR 23000
• Spicy SALAMI Spaghetti w/ Red Pepper and Fresh Tomato IDR 35500
• Fettuccine CARBONARA with bacon or Smoked Beef IDR 37000
• GNOCCHI GORGONZOLA w/ Pesto Sauce IDR 42000
• LOBSTER SPAGHETTI Tomato,Chili,Garlic & parmesan Cheese IDR 45000
• Spaghetti BOLOGNAISE IDR 29000
• Baked GNOCCHI Tomato Sauce and Cheese IDR 35500
• ANGEL HAIR KING PRAWN Angel Hair pasta w/ King Prawn In Fresh Garlic & Chili IDR 47500
• LASAGNE Lasagna pasta w/ Beef Meat & Parmessan Cheese IDR 39000
• FETTUCINNE ALFREDO Fettucinne Pasta w/ Mushroom & Chicken IDR 34000
• Spaghetti MEAT BALL Spaghetti Pasta w/ Beef Meat Ball in A Rich fresh Tomato Sauce IDR 24500
MAINS
• SHEPARD'S PIE chunky Beef Filling w/Mash and Golden Puff pastry Lid IDR 45000
• beef STROGANOFF with creamy mash and crisp vegetables IDR 45000
• Chicken SCHNITZEL with Pan Seared Veggie's and French Fries IDR 42000
• Grilled BABY SNAPPER w/ Sauteed Potatoes & Rucola Salad IDR 52000
• Plum sauce PORK RIBS w/ A Simple Salad and Fried baby Potatoes IDR 46000
• 500 gr Roasted CAJUN CHICKEN w/ Potato Salad IDR 49000
• ROAST PORK LOIN 200 gr Roast Pork Loin Seved w/ sauted onion & Sweet Potato Chips IDR 49000
• DIABLO SHELLFISH 300 gr Steam Of Lobster & King Prawn Served w/ Cucumbar & Tabasco Cream Sauce
IDR 65000
• FRIED SEABASS Fried Seabass fish w/ capers, Black Olive & fresh Tomato Sauce Served w/ Vegie & Sauted • Potato IDR 39500
• CHICKEN PIE Chicken Filling w/ Mash & Golden Puff pastry Lid & Served w/ Gravy Green Peas IDR 45000
• KIDNEY PIE Beef Kidney w/ mash dan Golden Puff pastry Lid & Served w/ Gravy Green Peas IDR 33000
• YORKSHIRE ROAST BEEF 200 gr Roasted beef w/ Yorkshire Pudding & served w/ Gravy and Cold Salad
IDR 54500
• GRILLED LOBSTER 500 gr Grilled obster served w/ fresh Salad IDR 90000
• DRUNKEN PRAWN 250 gr Sauted King Parwn On A Bed of SALD w/ Garlic Sauce IDR 55000
RUMOURS SPECIALTIES
• SPECIAL RUMOURS SIRLOIN/100Gr AT ONLY 40K
• SPECIAL RUMOURS TENDERLOIN/100Gr AT ONLY 50K
STEAK CORNER
• 200g TENDERLOIN two medallions of lean tender Australian beef IDR 53000
• 200g SIRLOIN lean with firmer texture and fuller flavour IDR 52000
• 250g PORK CHOP tender flavour some grilled chop IDR 45000
• 175g FRESH SALMON grilled salmon marinated in thyme & olive oil IDR 71000
• 200g FRESH TUNA steak tenderloin IDR 43500
• 350g LAMB SHANK oven roasted for 4 hrs, then grilled IDR 75000
• 350g LAMB CHOP 4pcs of grilled lamb, strong tasty flavour IDR 85000
• 200 Gr Entrecote, Slice grill sirloin served w/ iceberg balsamic dressing, fries & butter lemon sc IDR 65000
• 200 Gr CHICKEN STEAK, Served with pan seared vegie & sweet potato chips IDR 42000
PIZZA
• CLASSIC PIZZA, Tomato, Mozzarella IDR 23000
• DIABLO, Tomato, Mozzarella, Chicken, Jalapeno IDR 42000
• MAGICAL, Tomato, Bacon, Ham, Mushroom, Green Pepper IDR 39000
• GREEN GARDEN, Tomato, Mozarella, Eggplant, Capsicum, Rucola IDR 31000
• SUNSHINE, Tomato, Mozzarella, Ham, Pineapple, Onion IDR 38000
• TUNA, Tomato, Mozarella, Tuna IDR 33000
• FOUR SEASON, Tomato, Mozzarella, Arthichokes, Mushroom, Black Olive and Smoked Beef IDR 39000
• SUN GOES DOWN, Tomato, Mozarella, Pepperoni, Bacon, Ham, Onion, Mushroom, Black Olive IDR 39000
• CAMPIGNON, Tomato, Mozzarella, Mushroom IDR 31500
• OCEANEA, Tomato, Mozzarella, Mix Seafood IDR 39000
DESSERT & SPECIAL DRINK
Light homemade blueberry CHEESE CAKE IDR 24500
Rich chocolate MOUSSE with strawberry and cream IDR 18500
BANANA PUDDING With honecomb i/c, caramel sauce and peanut praline IDR 24000
Oven baked lime zest BRULEE With caramelised sugar lid IDR 26000
Chocolate PUDDING With espresso chocolate sauce (please allow 20min) IDR 26000
CHOCOLATE CAKE With strawberry coulis and choice of ice cream IDR 22000
SORBET Kiwi, Lemon Zest IDR 10500
Mix berry Yoghurt ice cream IDR 15000
MANGGO CRUMBLE With vanilla ice cream & manggo coulis IDR 18500
ICE CREAM :
Chocolate, Vanilla, Strawberry, Coffe, Honeycomb IDR 15000
RUMOURS RESTAURANT
Jl.Laksmana No. 100 Oberoi-Seminyak, Kuta, Bali 80361
Phone: +62-361-738720-21 Fax: +62-361-733269