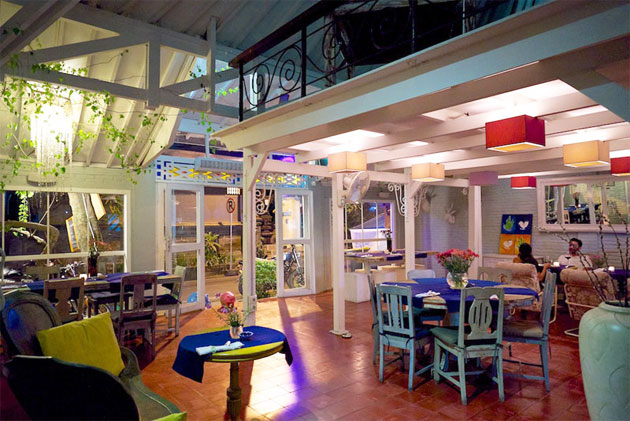 Zibiru

restaurant

is an authentic Italian restaurant in Seminyak, Specializes in farm-to-table regional Italian cuisine in a unique, open-air environment. Zibiru's ethos lies in its core belief that its food should do the talking. High-quality ingredients celebrate the simplicity of traditional Italian food. Live jazz performances are also held every Wednesday and Saturday. Zibiru

restaurant

has a bit of everything for everyone, from food enthusiasts to wine lovers, soul and jazz music fans to romantics looking for intimate dining and low conversation. It is a unique meeting point for the five senses, providing a little oasis from the noise and activity in Seminyak. Zibiru offers a chance to take a culinary tour of Italy in a cozy Seminyak oasis.

Founded in 2012 by Executive Chef Luigi Calcagno, Zibiru restaurant adorned with authentic details exuding old Bali charm, the restaurant revives the romance of the past with its whitewashed facade, hand-carved wooden interiors and handmade furnishings. This homey, convivial feeling is one you get throughout the open air space the minute you step through its doors. The restaurant offers three different dining experiences—al fresco in the garden amidst lush tropical flora, under the stars of the rooftop terrace or in the haven of its non-smoking interior.
The menu showcases the best offerings from the field and market—fish arrives fresh daily, bread is homemade on location, pastas are handcrafted from scratch. Organic heirloom vegetables are harvested from Zibiru's own environmentally positive farm in the mountains of Bali. Premium products that cannot be sourced locally are imported from artisans in Italy who produce only the finest quality foods. Taste the splendor of Italy's regional cuisine in a cozy Seminyak oasis and be instantly transported to Italy.
For those of you who would like to experience their hospitality, you can make a reservation or walk in is welcome. It is good for groups, kids, take out, catering, and outdoor seating.
Zibiru restaurant
Phone = +62 361733265
Address = Jalan Drupadi No.7, Seminyak – Bali
Open daily from 5pm – midnight.
Cuisines : Italian
Menu : Set Menu, Includes Extensive Wine List, Quality Coffees
Atmosphere : Stylish & Sophisticated, Outdoor Dining, Garden View