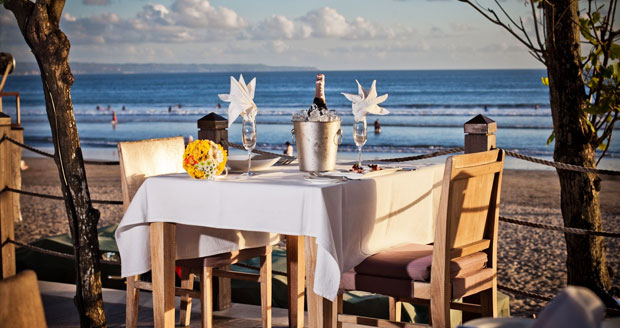 Chez Gado Gado is a hip, five-star dining, events and function venue located right on the beach featuring a contemporary ambience, wantilan design, innovative and evolving menu, extensive wine list and in-house Sommelier, an expert staff and, amazing sunset views of the Indian Ocean.  After over thirty years, the restaurant has earned itself a long-standing legacy in what is usually only fifteen minutes of culinary fame.  What began as one of few nightclubs dotting Bali's beaches has bloomed into a fine and adult experience – without ever outgrowing its lighthearted moniker.
Modestly standing to the side tail-end of Jl. Dhyana Pura in the bustling labyrinth of Seminyak, Chez Gado Gado has the appearance of a strong and quiet secret, reluctantly shared – despite ease of access, being right on Double Six Beach, and ample parking space.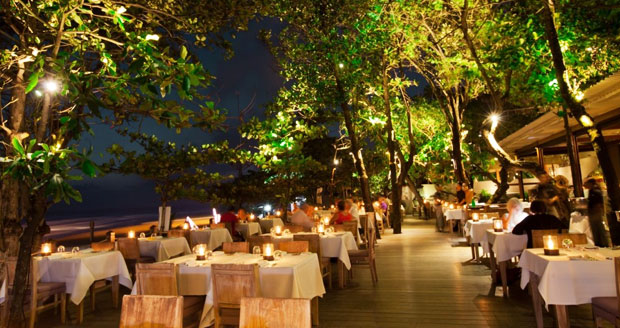 Gado gado is a tasty local dish with a recipe that varies island-to-island, chef-to-chef, or possibly even nightly.  It's a medley, a mix of vegetables, and a playful mutt, always doused in delicious peanut sauce.  As a restaurant offering primarily Pan-Mediterranean cuisine with menus thought up by an ingenious Dutch chef – on an Indonesian island – it's easy to see why the name is an apt one.  Chez Gado Gado is an exotic and ambient blend in a magical location with unsurpassed views of the orange sunsets over the Indian Ocean.  Staffed by passionate people from all around the country – plus a Sommelier from Chile offering a distinctive wine list – this delectable secret is an exotic blend, in deed.
The Venue
As the surroundings speak for themselves, Chez Gado Gado's architecture remains smartly open to the elements – to Seminyak's Double Six beach and the Indian Ocean and sunsets you'll search for words to describe.  The glossy, hardwood interiors of the main dining area and the lounge area provide a polished frame around the photogenic natural wonder in front of you.  In keeping with its past – also Bali's own golden years – the building is a modification of the local wantilan structure with a few structural modifications – including a dazzling, rounded bar – definitely not a feature found in most Balinese abodes.  Other elements of tradition include an ornate wall, from a tradition dating back thousands of years, called aling-aling that is believed to block bad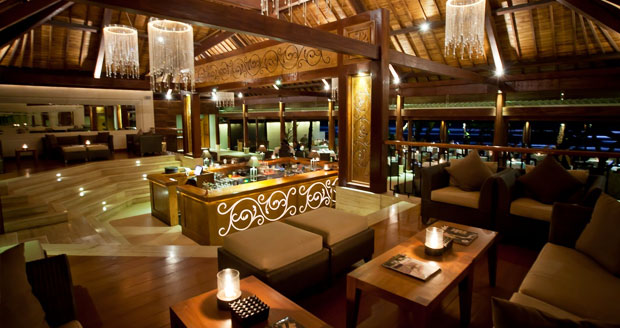 Services
The menu at Chez Gado Gado is based on using the best available produce from around Bali.  Starters include crab ravioli, foie gras parfait, beef carpaccio, slow cooked prawns with Iberico chorizo and more.  Main meals include delights such as poached coral trout, seared salmon, grilled tenderloin and twice roasted duck.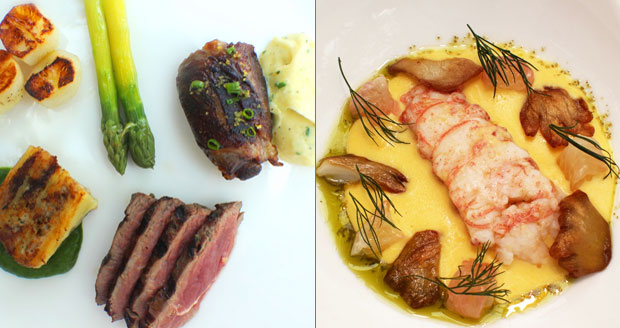 Wine
Working in between the bar and the kitchen, Chez Gado Gado's Sommelier has a broad knowledge of both the restaurant's fare and the lengthy wine list.  Offering wine by bottle or glass, the wine list represents most major wine regions, from old world to new, and from big names to boutique and up-and-coming winemakers, at reasonable prices.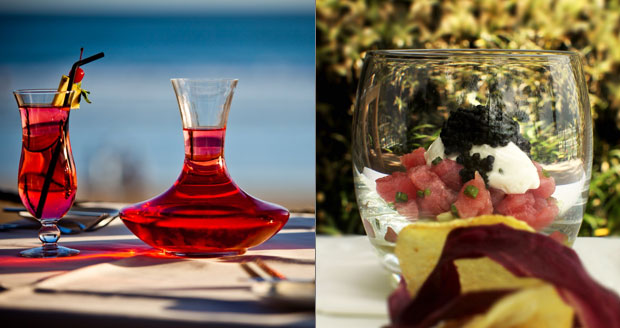 Chez Gado Gado Restaurant
Seminyak, Jalan Camplung Tanduk (Dhyana Pura) 99
80361, Indonesia