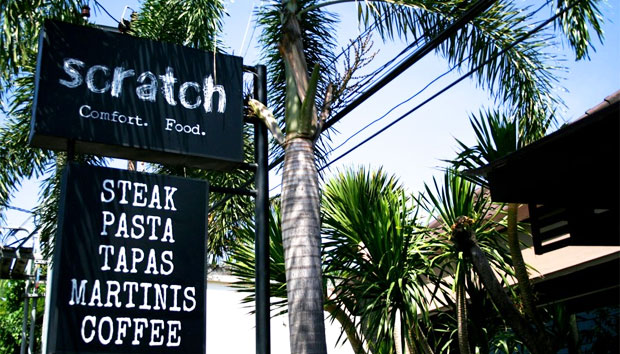 Here at Scratch Bar & Grill, the concept is to put a little bit of a spin on every dish, whether it's classic American "fast food", traditional Italian pastas or local Asian favourites.  It's a small menu, but we've got something for everyone, and every dish we serve is built to impress.
SCRATCH has a fresh, open air atmosphere and relaxing decor. Vibrant concert posters from bands like Cake, Arcade Fire and Kings of Leon add a very cool touch to the interior, and more than likely you'll be hearing similar bands over the speakers, or even a live concert DVD playing on the flatscreen.
The menu is equally inviting, and can best be described as gourmet comfort food. But clearly the Canadian chef (conveniently nicknamed Moose) won't settle for "mom's recipes", as it is obvious he enjoys putting a unique twist on most of his dishes. Steaks, pastas, American classics, local favourites, and free tapas during Happy Hour (8pm-10pm). And you can wash it all down with a mango martini or a frosty mug of beer.
Purposely located off the beaten paths of nearby Oberoi and Kerobokan streets, SCRATCH is a new restaurant serving up "homecooked, like your momma did it, Sunday dinner" comfort food. Positive word of mouth pulls in locals, ex-pats and tourists trying to avoid the crowded main drags. SCRATCH is an air conditioned, smoke-free bar and grill with an outdoor patio for smoking and hanging out.