"Rosso Vivo means 'bright red', a colour that has long been associated with bold elegance, brazen allure and, of course, flaming passion. You don't mess with red, yet – like fire – it can be very tempting to touch."
Italian cuisine is among the world's richest and most varied. It is also exceedingly popular, and for this reason – combined with the need to satisfy Bali's significant number of Italian visitors and residents – there is a wide choice of Italian restaurants on the island. Some of these eateries revel in exquisite subtleties, while others simply go for the gut. From Italian fine dining thru authentic regional home cooking "just like Mama used to make", to pasta parlours and pizza huts, Bali has it all. Rosso Vivo, on Kuta's beach road, however, slots into a niche of its own.
With a casual atmosphere, drop-in clientele and live music (check out the funky jazz on Sunday evenings from 5pm with Rio from Saharadja), combined with alfresco dining beside a swimming pool, comfortable lounge seating and a stylish interior, Rosso Vivo doesn't fit the category of fine dining, and nor does it claim to, especially as it is so affordable. Nevertheless, if you haven't yet eaten at this restaurant, you will be amazed by the high standard of the food, and if you already have, you will most certainly want to return.
At Rosso Vivo, the passion and earnestness of Chef Roberto from Milano, combined with the quality, freshness and seasonality of the ingredients, turns a seemingly ordinary menu into a road map to pure pleasure. And such was our experience last week.
We began with the beef carpaccio – wafer thin shavings of meat marinated in olive oil and lemon juice and served with salad leaves. Yes, I know this is a cliché but it came close to melted in our mouths. We also gorged a colourful salad comprising crispy chunks of pear, lettuce and carrot rolled up into scrolls, tossed with crunchy walnuts and oodles of soft, creamy gorgonzola. Cheese is an expensive gourmet ingredient in Bali, and many restaurants here are mean with their portions, so I revelled in delight when I saw the generous servings of my favourite blue.
For our main courses, we chose from the menu of Chef's suggestions, which offers delights such as 'Farfalle al Salmone' in pink peppercorn and cream sauce (Rp 92K), or 'Grilled Sword Fish' with almonds, capers and anchovy emulsion, served with rucola and lemon salad (Rp 90K) or 'Wild Chicken' Cajun style accompanied by crispy rosemary potato (Rp 85K). We selected and shared the 'Conchuglie San Giacomo' in salsa verde (Rp 90K), which is oven baked scallops in cognac, butter, anchovies and parsley sauce. If you ever loved a bivalve, you owe yourself this romance. Chef Roberto's pièce de résistance, however, proved to be the 'Fettuccine ai Ricci di Mare' (Rp 180K). A 'riccio' is a hedgehog in Italian, and a 'ricci di mare' is a hedgehog of the sea, in other words a sea urchin. Or, to be more precise, sea urchin roe, which unexpectedly melts down into the creamiest of rich, natural pasta sauces. Served with lemon zest, tomato concasse and cream, the dish had a deep marine undercurrent, and even if you didn't know what it was, you would somehow know it was seafood. It was a totally new experience for us and it was magnificent!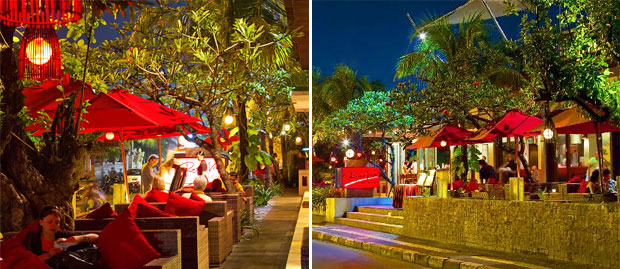 Funnily enough, we thought we didn't have room for dessert, but when a knockout, steaming, chocolate soufflé with a hot melted chocolate centre and a contrastingly frozen scoop of vanilla ice cream appeared on our table, we eagerly devoured it with equal enthusiasm.
Proof indeed that Rosso Vivo hits the mark and then some.
ROSSO VIVO
Jl Pantai Kuta, Tel: 751961