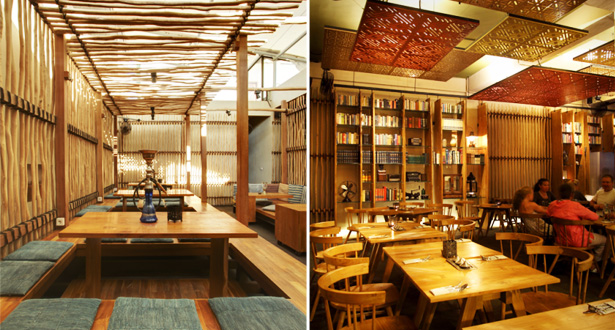 Khaima is a chilled restaurant in Jalan Laksmana/Oberoi, the new 'IN' area of Bali. It's one of the most well regarded restaurants in Bali and the only authentic Moroccan eatery on the island. It's run by a Belgian/Moroccan couple.
The chill-out area features a large tent-like atmosphere. It feels like you are somewhere in a Bedouin tent or Caravansary in the middle of the desert. Here you can watch the stars (the ceiling can be slid open when good weather), have a good look at other patrons, chat with your friends or just listen to some Arabic and Oriental tunes played in the background.
Great food – exotic and delicious
For chilling out you can just order some tea and fresh white sesame or olive bread with yogurt dip, but you would miss out on the great food which is served here. The menu contains an exciting blend of moroccan dishes, all home-cooked and freshly prepared. There are all kinds of chicken, beef, lamb and vegetarian dishes; serve as well the all-time favourites like shish kebabs, falafel, couscous, humus and sweet desserts.
Special treats on weekends
Khaima Belly Dancer with umbrella stick in white/silver dressOn weekends however, mostly starting around 9pm, there is a special treat for guests and patrons – and one reason more to hang out here:
Belly Dancers will suddenly show up, dancing to arabic music around the tables, arousing the audience.
Up to 3 girls all dressed in exotic dresses in all different colours (red, silver/white and black) dance around you and move their bodies to arabic tunes and rhythms.
You feel like Sindbad in the Arabian Tales from 1001 nights and even 3 Scheherazade are dancing around and right in front of you! Anyway – isn't it great to have a place which you would expect more in the Middle East or in Arabic countries right in the middle of Asia?
Khaima Bali Moroccan Restaurant
Where : Jl. Laksamana Oberoi, Seminyak, +62 361 742 3925
—————————————————————————————————
Operating hours : 13pm-3am
—————————————————————————————————
Food price range : Starters 25-35K
Mains 45-95K
Dessert 25-45K
—————————————————————————————————
Style of food : Moroccan
—————————————————————————————————
Recommended dishes :
Starter: Goat Cheese Briwattes
Main: Royal Couscous
Dessert: Almond Custard Pastilla
—————————————————————————————————
Entertainment : Belly Dance every Friday and Saturday at 8pm
—————————————————————————————————-
Facillities : Back and Front Terrace, Free Wi-Fi, Magazines, Private parking, Shisha Pipe, Smoking area, Valet service