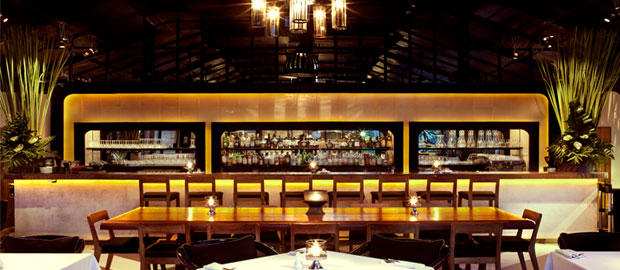 Chandi Restaurant is conveniently located in the middle of the main strip on Jalan Laksmana Seminyak Bali.  It has a cool, resort style vibe, with high ceilings, whirling ceiling fans and an exotic looking bas relief light sculpture adorning the entire wall behind the bar.  Highly recommended is the Appetiser Plate for two with a variety of delicacies from Mini Beef Rendang Envelopes, Black Pepper Crab Dumplings through to Crunchy Tofu Squares, Seared Scallops with Tamarind Dressing and Chilled Watermelon Soup.
Also highly recommended are the Satés, you can choose chicken, duck, prawn, fish, scallop, beef or vegetarian…or have a selection, served on their mini, lava stone BBQs.  The Chandi Flat Breads that come with a delicious Peanut Dipping Sauce are also good. The menu at Chandi, Chef Agung says, caters to a "glamour-meets-health-nut" clientele of Seminyak, with an emphasis on healthful native ingredients like soybeans and tempeh.
Reasonable prices matched with a smart décor—black-and-white checkered floors and a spectacular 8-meter hand-carved backlit amber wall behind the bar—add to the appeal. The food has its highs and lows, but its kind of perfect for that last meal before you go out to the airport to get onto the dreaded midnight flight home. Chandi takes great Pride and Joy in working with Ingredients that are mostly locally sourced, however, in order to satisfy our standards, we only serve imported Meats.
Events
Private parties and special events can be held in the following areas: Main Dining Room, Garden, Terrace, Private Air Conditioned Room, Two Full Bars and Rooftop are individually available for private parties. However Chandi does not rent out as a full venue as it needs to accommodate regular guests.
Chandi's full capacity is 214 mixed seating, with enough space for an additional 150 people standing. Dinning capacity is 130 including Main Floor and Rooftop. Low seating and bar seating capacity is 85.
Chandi has two Full Bars, Main Room Bar and Rooftop Bar. Rooftop Area hosts a DJ booth, a pool table, a projector screen, and an 8 meter stage designed for live performances.
Opening Hours 
BRUNCH : Sat & Sun 10:00am – 4:00pm
LUNCH : Mon to Fri 12:00pm – 5:00pm
DINNER : Mon to Thu 5:45pm – 12:00am ; Fri & Sat 5:45pm – 2:00am ; Sun 5:30pm – 12:00am
Location
Jl. Laksmana No. 72 Seminyak, Bali, 80361 | phone : +62 0361 731060
Parking garages are located on Jl. Laksmana directly acrossed from Chandi. Valet parking is available.