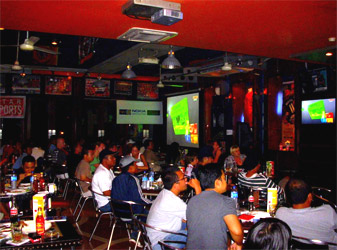 Stadium Café and Sports Bar Voted as The Best Sport Bar in Bali. Just look for the giant orange canopy and into the Biggest and Best Sport Bar in Bali.
You can enjoy a Feast from The East and the Best from the West. We have "3" wide screens and 11" Tv's playing all your favorite Live Sports from around the world. You can dine outside on the deck that overlooks the Orchids Garden.
Cuisine: European, Western, Asian
Dining Style : Casual
Capacity : 125 Seats
Offers : Informal Meeting, Dinner Party, Special Event
Payment Option : All Major Cards
Facilities : 3 Big Screens, 11 Tv's
Private Party: A private dining room is available for seated groups up to 30 guests.
Address : Complex Kuta Side Walk. Kartika Plaza Street. Kuta – Bali,
P. +62 361 763100/764100/763900 F. +62 361 763200