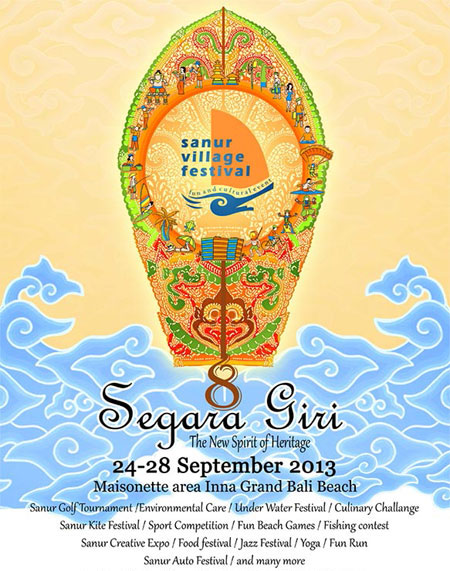 the Sanur Village Festival 2013 will again light up the coast of Sanur Beach with all kinds of fascinating fiestas from 24th to 28th September 2013 to be held at the Maisonette area, Ina Grand Bali Beach Hotel.
The Festival features 3 days of daily art performances, related cultural and commercial activities, presenting a wide variety of dances, music and other artistic expressions. This year also marks the new theme "Segara Giri", Segara being the sea and Giri being the ocean, which means Tracing the Trails of Life. It depicts the Sanur, and Bali, community commitment to preserve nature and social cultural elements, reflected through its values, education, creativity and recreation.
Dubbed by many as the Island of the gods, Bali never ceases to impress its visitors, not only through its sheer natural beauty but also through its well preserved and living traditional arts and cultures. As the scene where Balinese and other arts and cultures are magnificently presented, SVF will be a colossal presentation of arts, a "Woodstock" of traditional cultures, and an occasion that you can certainly not afford to miss.
Celebrating Balinese contemporary and traditional culture,  during the festival Sanur's streets will host colorful floats and "thousands" of parade participants in a display of music, light and colors that will wow audiences with a showstopper of a parade. Among the most anticipated programs of the Event are:  a food festival, water sports, cooking demonstrations, environmental conservation initiatives, exhibitions, and an entire range of entertainment offerings. There will also be Sanur Golf Tournament, Environmental Care program, Under Water Festival, Sanur Kite Festival, Sports Competition, Fun Beach Games, Fishing contest, Sanur Creative Expo, and many others.
Sanur Village Festival programs planned between September 24-28 2013:
Art and Musical performances
Food Bazaar
Bali Culinary Challenge
Sanur Open Golf Tournament
Under Water Festival and coral reef planting
Jukung boat competition
Sanur Fishing Tournament
Cultural and Art Parade
Environmental actions including beach cleaning, tree planting, mangrove conservation, turtle release and environmental education.
Photography Competition
Marine Water Sports
Sanur Fun Bike
Sports and Fun Games
Fine Art Activity, art and handicraft exhibitions, painting demonstrations and body painting.
Fashion show
Ice-carving festival
Yoga lessons and Yoga demonstrations
Cultural dialogue
Business meetings
Sanur Kite Festival
Sanur Auto Festival
Located just 25 minutes from the international airport, 30 minutes from the Kuta area, and 15 minutes from downtown Denpasar, Sanur is renowned as Bali's first beach resort and is actually where the early tourism industry grew on Bali. Sanur is also the launching pad for visitors who want to dive and explore the splendors of the nearby island of Nusa Lembongan. As a place where tourism first flourished in Bali, Sanur has some of Balis' historic hotels. Built in 1965, the Inna Grand Bali itself, formerly called Bali Beach Hotel, was the first five star and the only high rise hotel in Bali. After its construction a new law came into force where in Bali no hotel may be built higher than a coconut tree.