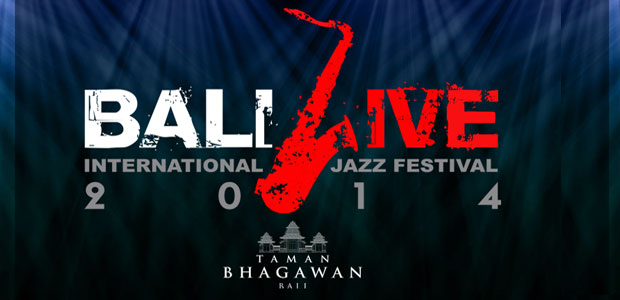 Bali Live International Jazz Festival 2014 scheduled to take place in Bali from 5th to 8th March 2014. Set right after the Java Jazz Festival 2014 in Jakarta, this prestigious Event will feature world famous international acts from the Java Jazz line-up, as well as other International artists besides Bali's own best talents and other Indonesian renowned musicians.
The Festival will feature three nights of Pre-Events featuring bands from the festival line-up, at a selection of premiere Live Music Venues around the island. These venues include the Jazz Café in Ubud, Hard Rock Café in Kuta, Ryoshi House of Jazz, Uma Cucina Ubud, Mozaic Beach Club Kerobokan, SOS Anantara Seminyak, Nusa Dua Beach Hotel & Spa, Sundara Jimbaran, and Le Meridien Hotel Jimbaran.
The main festival will be an all day open air concert on Saturday 8th March from 2pm- 11pm Central Indonesia Time at Taman Bhagawan, an iconic and idyllic ocean-front venue in Tanjung Benoa. Not only will the audience be presented with great music  but, moreover,  with the beautiful Balinese style setting of Taman Bhagawan comprising a 100-metre stretch of white sand beach in the charming village of Tanjung Benoa. The venue is just 5 minutes' drive away from the exclusive Nusa Dua resorts area, 20 minutes' drive from the airport and 30 minutes from Seminyak, Kuta or Denpasar.
Main Event
Saturday 8th March
Main event featuring all artists on one stage at Taman Bhagawan, Nusa Dua
Doors open 1 pm until 12 midnight
Pre-Events
ticketsfor pre-events can be purchased directly from the hosting venues
Friday 28th February
Erik Sondhy Trio ♦ venue : Beachwalk Kuta
Saturday 1st March
Deep Sea Explorers ♦ venue : Beachwalk Kuta
Monday 3rd March
Rio Sidik & Saharadja Feat . Special Guest from Java Jazz ♦ venue : Ryoshi House of Jazz Seminyak
Tuesday 4th March
Omar & playas Gotta Play Feat. D Notes Harris & Robert Turner ♦ venue : Jazz Cafe Ubud
Jim Larkin & The Saucy Soul Band ♦ venue : Nusa Dua Beach Hotel & Spa
Wednesday 5th March
Tania Maria ♦ venue : Uma Cucina, Ubud
Estaire Godinez Feat. Stokley from  Mint Condition ♦ venue : SOS Anantara Seminyak
Nita Aartsen, Israel Varela & Yeppy Romero ♦ venue : Sundara, Jimbaran
Thursday 6th March
Earth Wind & Fire Experience Feat. Al Mckay ♦ venue : Mozaic Beach Club Kerobokan
Free Events : Soul Cure 5PM
Starring Nancy Ponto & The Soul Brothers ♦ venue : Beachwalk Kuta
Friday 7th March
Incognito ♦ venue : Hard Rock Cafe Kuta
Balawan ♦ venue : Le Meridien Bali Jimbaran
more information at : www.balilivefestival.com