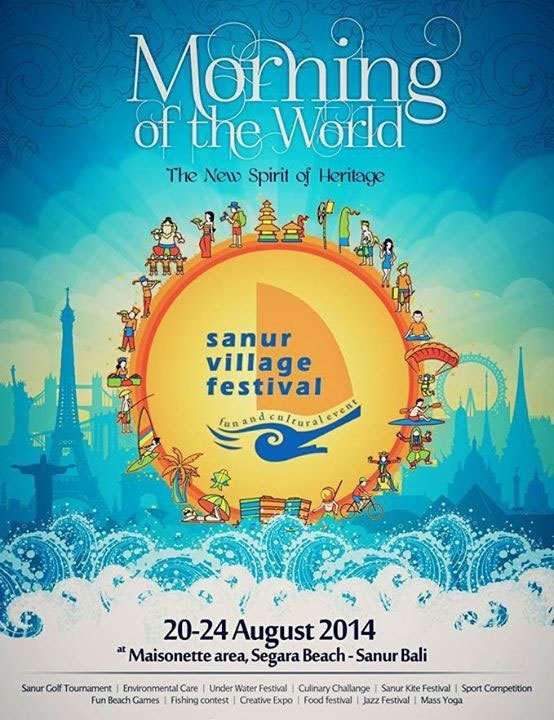 Sanur Village Festival  is a unique celebration for the more calm and quaint area of Sanur. Starting from 20th-24th August 2014, Sanur will present the 9th Sanur Village Festival taking place at the Maisonette area of Segara Ayu Beach. The Festival will have the largest highlights of Bazar & Food Festival, Fashion Show, Sanur Kreatif Expo, Agrowisata Indonesia Expo, Sanur Village Cycling tour, Culinary Challenge, Yoga performance, Sanur Golf Tournament, Environmental care program as well as the fishing tournament. The international kite festival, jukung festival and the first Sanur Run would definitely sensate the spectators with their breathtaking race.
Through this festival, would also like to distribute the message that the branding Morning of The World will be a reminder of Sanur being a major brand of tourism in Bali.
Last but not the least, cordially invite everyone to come and enjoy the five days full of fun activities of 9th Sanur Village Festival 2014 and also thank everyone whose hard work and involvement as well as assistance and participation had ensured the success fulness of our Sanur Village Festival.
ABOUT SANUR VILLAGE FESTIVAL
Sanur Village Festival (SVF) is a community event founded by Sanur Development Foundation (YPS) which is a combination of several large-scale activities involving food festival, creative economy exhibition, various contests and competitions, art and cultural attractions, music as well as various types of environmentally-friendly activities.
The word Village Get a privileged place where we will not release shades rural a condensed in the sanur among global era and development of modern culture.