At Bali in Indonesia, There are many river for rafting with various grade that indicates the level of difficulty and the challenges. The highest level rafting in Bali owned by Telaga Waja River Rafting, reach grade IV. Another river that can be used for rafting is the Ayung River. This river also has challenging terrain. Coupled with the path that passes through valleys and steep ravine, making the scenery along the river so beautiful.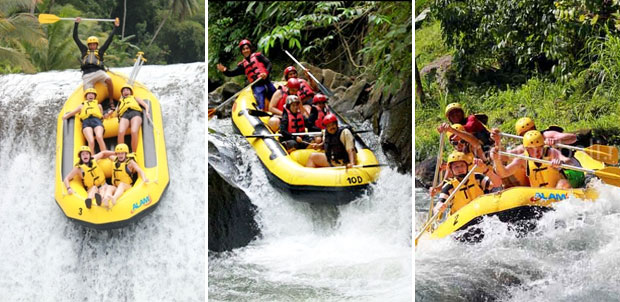 Telaga Waja river
Grade: IV
Track length: 12,5 Km
Rafting duration: 2.5 hour
Telaga Waja river is still the best Bali river for rafting. For people who beginner in rafting activities you don't need to be worry, Telaga Waja White Water River is one of the best river that should be trying for beginner and for those with family. This river offer mix of difficulties class rapids from class III to class IV rapids, this will create some unique challenge on certain part of the river and you can enjoy your raft flow on the rapids while enjoy the beauty of the scenery. Even though the rapid class is 3-4, but still Telaga Waja White Water River is very suitable to family who looks for Bali adventure. Just follow the instructions that your rafting guide tell you and every thing will run smoothly.
Location at Muncan village, Karangasem regency. From Kuta, Jimbaran or Nusa Dua it will take 1.5 hour driving by car. The water of Telaga Waja river flow below Mount Agung, the tallest active volcano on the island.  Telaga Waja river offer beautiful view of rice field, tropical forest and water fall that spill water in to the river. River of Telaga Waja the natural environment is still well preserve, less pollutions on this area because it's far away from any city. So if you look for fresh air, fresh water and fresh environment, than you should do rafting at Telaga Waja.
Ayung River
Grade: II-III
Track length: 11 Km
Rafting duration: 1 hour
Ayung River Bali is very suitable for people who are not an expert in rafting activities, most of rafting company in Bali allow ages from 9 – 65 years old to join the activities. So this river is suitable for family rafting. When you join Ayung river white water rafting, you will get of mix of excitement, adrenalin boost, amazing tropical view, well-informed guide who able to give you the information of rafting Bali Ayung.
Ayung River stretches from the Petang village, Badung regency, but also across at Kedewatan area in Ubud Bali. With track more than 12 kilometers, feels adrenaline among a swift river currents, snaking river valleys and among big rocks originating from volcanic eruption of Mount Agung. In addition, the green valleys and countryside villas located along the river also an exciting adventure.
Ayung river has become a favorite among water sport lovers for many years. This river also located not too far from Denpasar. To reach the start point of rafting, visitors spent only an hour away from Denpasar. One Bali water rafting start point is in the village Kedewatan, Ubud Bali.
Typically, the provider of river rafting Bali already provide shuttle-service from the hotel where you stay. Then in the location you will get a welcome drink, waterproof bag to protect your camera or other essential goods, buffet meals, towels, a place to change clothes and bathroom, as well as insurance with coverage up to USD50 thousand.
Rafting Tips:
Before you start rafting, you will get pants, helmet and safety jacket by the manager. Button up and tie it all well.
After wearing the equipment, by instructors who will accompany, you will given explanation about the basics of rafting: how to hold the paddle, how to float when you plunged into the water, how to hold the safety rope when in difficult situation, and special codes which will be used by instructors who will act as captain. At that time, the instructor will tell you about the track length and travel time. Keep well all of it.
During the rafting, be quiet. Listen to the each captain's orders.