When we grow older, people associate old age with weakness and powerlessness. But if we think the opposite, being old can also mean steadfast and mature. Ni Ketut Cenik, a Balinese dancer maestro, proved that in her 89 years of age, she is still the best.
Ketut Cenik was born in 1920 in the Batuan village of Gianyar. She learned to dance when she was 15 years old. She had no master to teach her, but she often sensed something improper, for example when her teacher showed a slow or less enthusiastic movement. But to find the best teacher was impossible for her as she was very poor, though she still had a strong desire to one day make her dreams come true. So just by observing a dance taking place, she was able to follow the movements. She could feel the vibrations from the gamelan so when she heard it, her body just moved along with the gamelan sounds. This gave her the ability to perform any Balinese dance, including the difficult Joged Pingitan.
Joged is a social dance which is very popular in Bali. The movement patterns are active and dynamic. Joged is a unification of Legong, a classic Balinese dance that has complex movements, and the Kekebyaran, a dance that is of a merry and dynamic character. Among the characteristics of the Joged is that it may be improvised. Joged is for couples. The dancer who is a woman invites men in the audience to join in on the dance.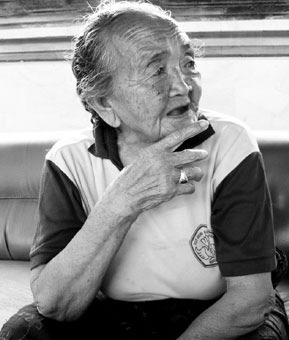 Meanwhile, Joged Pingitan has a different role that other Joged general dances. It is called Pingitan because there are some parts of the dance that are 'secluded' or 'hidden' (pingit). The so called hidden part is when the pengibing or invited men dancers are only allowed to dance equal the female dancer's movements, but he is not allowed to touch her. The dance is usually based on Prabu Lasem's story or some part of the Calonarang epic. History has it that the Joged appeared around the year 1884. In the beginning, this dance was only performed before the king and the dancers were his mistresses. Nowadays, it is hard to find a dancer who can dance the Joged Pingitan because of the highly complex movements.
When I visited her at her house, Ketut Cenik was busy preparing offerings for a ceremony the next day. She was so friendly, welcoming us with a large smile. She has not many daily activities except dancing, as the daily household activities are done by her grandson's family. Once a week she teaches children at the Agung Rai Museum of Art (ARMA). She often dances in temple ceremonies. Dancing, as it is, can also be considered another form of offering.
Her grandson's wife told us her grandmother will suffer a headache if one day were to pass without her dancing. Ketut Cenik opened her eyes widely pretending to be angry at the comment, but then she smiled and said, "Nak saja mula keto (that's true)." She loves dancing. She married I Nyoman Reneh who is also a dancer, and has passed on her talents to the next generations.
Text by Ni Luh Dian Purniawati, courtesy photos
Article Source : baliandbeyond