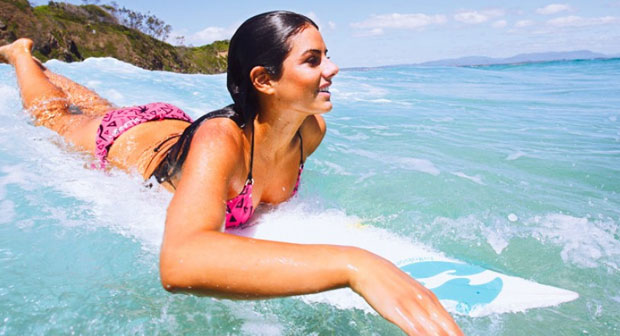 Learn to surf with the top surf school in Bali – voted "Best Surf School in Bali" for 3 consecutive years by Magic Wave Surf Community Magazine. Pro Surf School offers comprehensive surfing lessons for beginners, intermediate and advanced surfers, as well as surf trips around Bali.
Experience the fun and excitement of surfing! How it feels to brake away and slide down the face of a wave… with the support of a great bunch of friendly coaches. The surf school program is fun, structured, professional and safe. Great setting, atmosphere and smiling faces makes all the difference!!
We'll go as far as guaranteeing the best instructors and surf experience on the island. We are also located right at Half Way Kuta Beach, which has probably the best waves for learning in Kuta & Bali.
SURF LESSONS

Beginner
The board, safety, ocean & wave positioning, paddling & catching waves, control & standing up
Intermediate I
Paddling out & navigating waves, reading, selecting and understanding waves, timing & take off, turning & trimming
Intermediate II
Refining timing & jump up, late take off riding the wave face, surf etiquette video feedback on performance
Intermediate III
Surf trip – beach/reef breaks. Put your skills to the test, graduate on challenging waves
Introductory 2 short boards
Takes you to the next level. Understand & control short boards, duck dives, selecting waves, timing, take off
WHATS INCLUDED
All courses includes…
* Tuition * Free pick up & drop off from place of stay * US$ 10,000 comprehensive insurance cover * Quality trainer surfboards & equipment * Sun protection surf shirts, sun screen & zinc * Refreshment drinks during break * Lunch – full day only * Certificate of surfing – upon request
Facilities includes:
* All day swimming pool use * Showers, clean towels, changing room * Lockers / safety box * Top of the range imported Australian training boards (G Boards) * Pool bar & beach front restaurant — one of the hottest nightlife club/restaurant in Bali! Ocean Beach Club ESC
FLEXIBILITY
Choose an entry level which suits your needs and pay for the number of days you pick.
You can do as many classes as you like depending on how far you wish to take your surfing skills or repeat modules until you feel comfortable to move to the next level.
FAST TRACK
At each level you will learn new skills and we will provide you with a set of new challenges. So you will learn as fast as your ability takes you.
SAVE MONEY
After each surf lesson, we encourage students to practice with others students before moving a level, this way you will get more out of your surf course and save some money too! Although we offer full day courses, for most ½ day class is sufficiently challenging.
SAFETY
* We have a very high safety record.
* All instructors are qualified in first aid and advance resuscitation – bronze medallion certification.
* Instructors are also regularly trained to maintain the highest standards of safety.
* All lessons covered by a US$ 10,000 policy- see terms & condition for detail
QUALIFIED INSTRUCTORS
* All coaches accredited  to Level 1 &2 – Australian Surfing Association standard
* All coaches are certified life guards – Australian Bronze Medallion Certification
EQUIPMENT
* Our boards & equipment are renewed each year, so you get the best.
* Soft training boards (G boards) equipped with rubber fins for our beginner classes to maximise safety.
* Depending on ability level and experience, fibreglass boards are used for more advanced classes.
* We provide the largest selection of board sizes from 5,11 short boards to 9'6 malibus
BOOK SURFING LESSON IN BALI