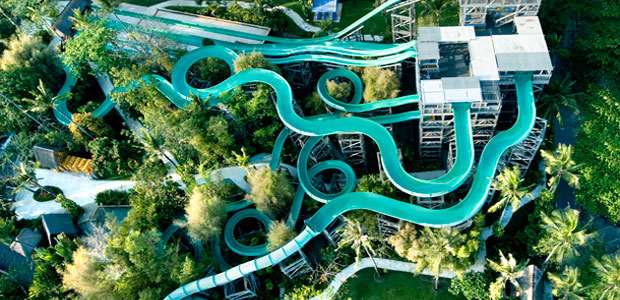 Waterbom Bali sets itself in lush tropical garden with many great rides and attractions. Exciting water slides slice through 3.8 hectares of landscaped tropical parks providing hours of fun and entertainment for the young and the young at heart! There are 101 ways to fill 24 hours each day with thrilling activities on land and in water.
Set your own pace for a day of fun in the sun or relaxation in the shade; perfect for the whole family or for that special getaway. With a choice of dining outlets and a swim-up bar for tropical drinks, Waterbom Bali is the one-stop leisure capital of Bali.
World-class slides and rides are built and maintained to strict international safety standards. Waterbom Bali uses the advanced salt chlorination water sanitizing technique which is soft on the environment and on your skin too. Waterbom Bali is also an EarthCheck Silver Benchmarked company for the ongoing commitment to having environmentally sustainable operation.
Rides & Attractions:
Smash Down
The perfect ride for the speed junkies!. Hit a top speed of 70 km per hour as you smash straight down from an 8‐storey slide at a 60‐degree angle
Boogie Ride
Dare your mate to go head to head with you on a parallel lane with specially made sled mat and you will go head first to race for glory!
Funtastic
Big fun for the little ones – funky rides, water cannons and jets, body slides and more to certainly make tots go ecstatic. These attractions are designed to be child safe and supervised at all times.
Lazy River
Here's a river you can drift along in a tube raft and lull your heartrate back to normal. The cascading waterfalls, languid ripples, and luxuriant tropical foliage will help to screen you from the flurry of excitement.
Pipeline
The Pipeline whisks riders along a twisting and banking tube that is sure to make even the most adventurous hearts race. The Pipeline is perched some 20 meters high, directly above the notoriously extreme Climax, giving riders a breathtaking, panoramic view of the Kuta skyline and of Waterbom's lush tropical gardens.
Race Track
Zip down a slide at lightning speed and feel the weightless sensation as you go airborne through 2 sudden drops! Feel the rush of water, adrenaline and cold sweat!
Superbowl
A thrilling swoosh down the aqua tube picks up momentum as you get pulled through the enclosed slide at breathtaking speeds.Emerge from the tunnel into a huge cauldron otherwise known as the SUPERBOWL! From here, you get flushed down for a splash into the pool
Climax
Enter a small chamber 16 meters above the ground and let the adrenaline rush consume your emotions before a trap door right below you opens up and exposes you to the 2.5 G‐force of speed. Your body takes you on a near vertical dip before going back up and looping around. The physics of this ride is simply made to give you the thrill of a lifetime.
Boomerang
Scream your lungs out as you twist down a 20 meters drop only to get swept straight up back up again! Before you can catch your breath, you're in for a free fall. The ultimate half pipe, where the sky is the limit.
Facilities:
• 21 World Class Water Slides
• Locker, Changing Rooms and Shower
• SPA (Reflexology, Fish Spa, Body Massage)
• Euro Bungy
• Water Blaster
• The Shack
• Kiddy Park and Aquatic Playground
• Cabanas/ Gazebos
• Large Sunbathing Area
• Disabled Toilet and Access
• First Aid Center with Doctor and Nurse standing by
• Fun shop with varieties of merchandises
• Pool Bar
• Wantilan Food Trail and various food stalls throughout the park.
• Cashless Payment System within the park with Splash Band
• Group Functions and Private Area booking available upon request.
Operation Hours: Open Daily 9am – 6pm
Average Temperatures: 28 – 33 degrees Celsius