Padangbai is known as a stopover point for visitors who want to journey to Lombok and beyond. But if you choose to stay for a while, you will find that this small bay is a great little getaway spot.
When you hear about Padangbai, the first thing that probably pops into your head is "ferry port," for Padangbai is the sea gateway to Lombok with its ferries connecting it to the island of Bali. The hourly ferries carry passengers, vehicles, and other contents to the port of Lembar and back to Padangbai from the early morning to late at night.
As a port, Padangbai is very busy as it is one of the most important ports in Bali, but as a holiday destination it is a perfect secluded place to stay. Padangbai is a small fishing village in the Karangasem region, a 90 minute driving from Ngurah Rai airport via the Ida Bagus Mantra bypass on the east side of Bali. The landscape is quite similar to its neighboring island of Lombok, surrounded by green hills with less construction within the area, not like in the southern area of Bali where construction fills almost every part of it.
FOOD AND ACCOMMODATIONS

Padangbai is that it seems like life is very simple in this little village. There are no glamorous shops, hedonistic advertising, or too loud music. The ambience is peaceful and not too crowded, although there are a few vehicles passing on Jalan Silayukti, the main area in Padangbai.
The people of Padangbai are very friendly, It is not hard to find a place to stay in Padangbai, as the accommodations along Jalan Silayukti suit every budget, from backpacker beds 'til splurge villas at Bloo Lagoon, or use this link for Padangbai hotels reference. Food is not hard to get also. If you are a fan of pasta, pizza, or sandwiches, these foods are all available at the restaurants along the road. These restaurants also serve alcoholic beverages, especially the island's most favorite brew Bintang. The only challenge here is to find good local food. As there are less Javanese staying in the neighborhood, I found it hard to find good Nasi Campur, my favorite Indonesian food that is usually easy to get everywhere in Bali. But not in Padangbai. You will have to be happy having Mi Goreng or Nasi Goreng.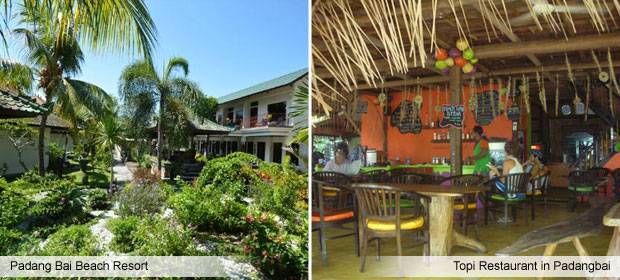 GETTING AROUND
The most convenient thing in Padangbai is that you can explore the area by just walking around. The main beach is used to park the boats of the fishermen and the diving operators, so it's criss-crossed with ropes. In the afternoon the main beach is quite busy, full with people that gather or just walk along the beach. With so many boats arriving and leaving the beach, it's quite hard to relax on the shore, but there are a few bale bengongs to sit in and have a talk with locals along the beach. When the tide is low the shore on the north part of the bay is wide enough for relaxing or sunbathing.
The best beach to relax at is Bias Tugal, a beach located on the south part of the harbor separated by a huge rocky reef. This small beach has a few warungs were you can buy snacks and beverages and it's less crowded compared to Padangbai's main beach, although the waves are usually bigger there.
My favorite thing to do is to go exploring on the hills on the north side of the bay where you can take a walk up from the main road and turn right towards the Tanjungsari Temple. There is small forest around the temple that has a challenging footpath with slopes up and down the hill. When it is dry, the footpath is dusty and using the path can be dangerous especially with the many bushes and cactus along the way. If you follow it, the path ends at the rocky reef overlooking a bay called Tanjung Jepun, a famous snorkeling point within the area, where local people usually come for fishing when the tide is low.
UNDERWATER LIFEPadangbai is also known as one of the most visited underwater destinations in Bali, because this village connects the diving locations on the east coast of Bali with Nusa Penida. Usually the divers stay in Padangbai in order to continue diving in different spots, therefore there are also plenty of dive shops that are used as a place to refill oxygen tanks and park the boats.
And just like on the land, Padangbai offers a lot to explore under the ocean. There are five diving points from beginning to advanced divers, named Biaha, the Canyon, Tepekong, Mimpang, and the most popular site Bloo Lagoon, with various reef types and coral. The current is mild as it is protected by the reef more than the islands off the east coast, with clear visibility up to 20 meters in perfect weather. At some points, diving can sometimes be very dangerous as currents coming from the Lombok Strait create unpredictable water movements that can result in a washing machine effect.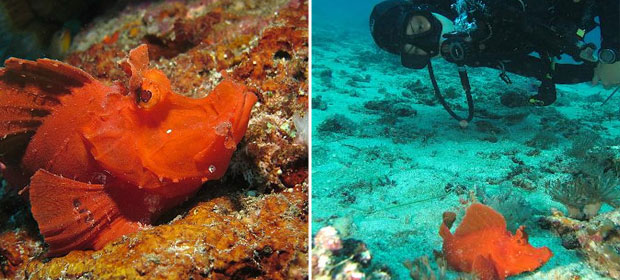 In Padangbai, numerous underwater creatures including Sweetlips, Angelfish, and Surgeonfish are often seen around Bloo Lagoon and Tanjung Jepun, favorite diving spots for beginners, underwater photographers and snorkelers. There are also large Napoleon Wrasse and Trumpetfish which can be seen during August – September, as well as stonefish, moray and blue ribbon eels, nudibranches, rays, squid, octopus, Scorpionfish in every hue, Stargazers, and of course, white tip sharks.
You need to take small boat or jukung to get to these diving and snorkeling points. Usually it's included in a package at the diving operators.
If you just want to go snorkeling, the best way is to go on a boat with a local fisherman, which will only cost you around USD 20. They also rent snorkels, masks and fins so there is no excuse for not getting yourself wet. Although snorkeling in Padangbai was not my best time snorkeling ever, I had a great time staying there before finally taking my ferry to Lombok that night, tired after having a wonderful day at Padangbai.