In Bali, painting has its own story. Balinese art grew from the work of the Majapahit Kingdom's artists who moved from Java to Bali in the late 13th century. It was first created for religion purposes in the form of the wayang, which became a visual narrative of the Hindu-Javanese epics Ramayana and Mahabharata drawn on cloth or bark paper (Ulantaga paper) with natural dyes indicating a high level of skill in composing shape, form and representation. Kamasan, in the Klungkung regency of East Bali, was the center of classical Balinese art as well as was Ubud from the sixteenth to twentieth centuries.
It was at the beginning of the 20th century that Balinese art began to be influenced by artists from the West who resided in Bali. Not only using new materials and painting on canvas, the cultural and symbolic themes showed a tendency towards more realism leading to a great deal of innovation and modernization. Painting in Bali became very lively, and promotion started becoming a necessary thing to do to increase sales. Establishment of community groups, started by Pita Maha, has given artists spaces and encouragement in order to improve the quality of art.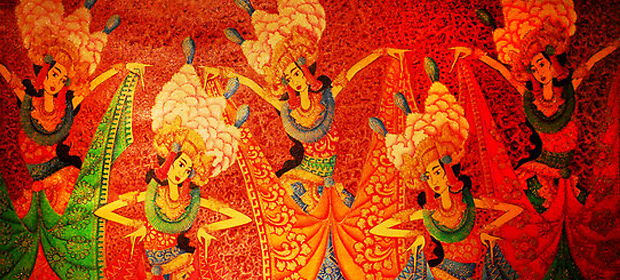 With no boundaries, modern art in Bali is full of surprises and possibilities where the artists explore their talents using a collaboration of all elements so that the result can be said to be very artistic. With the numbers of fans growing, the price for Balinese art is getting higher too.
When the Indonesian government started Bali as Indonesia's main tourist destination in the 1970s, the number of visitors increased year after year. Slowly Bali became not only a place for a holiday but also a place where buyers met with sellers. People started to export Bali's best crafts, and that includes paintings.
With high market demand and an increasing number of art graduates, painting in Bali has slowly become an industry. Everyday there are a large number of paintings packed into containers to be sent to almost every part of the world. People began to produce paintings as mass products in order to offer affordable prices to people who want to enjoy a piece of art, as well as to find easy ways to quickly sell it. The workers are usually formed by the company itself, or they gather as an artist community. In a factory, just same like every laboring job, the workers work 7 hours a day and receive daily wages, although some who work in a smaller group earn money only if their paintings are sold.
But unlike fine art that is done by one single artist, mass production painting products are made by workers who occupy specific positions in the chain of production to optimize profitability. There are divisions that produce patterns, paintings, finishing, and framing, even for painting the sides of the paintings. Each part is done by different person. If the factory gets a big order, a pattern for sketching is made so the workers can duplicate it as many times as possible in a very short time.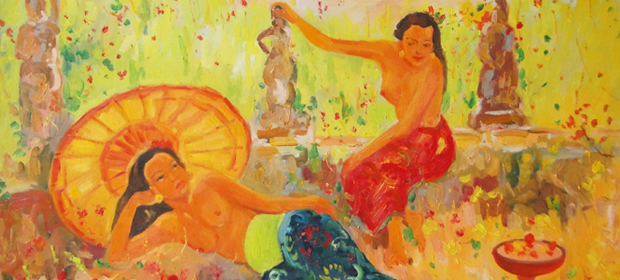 The artists practice primarily paintings and reproduce models that have been provided to them depending on the size and difficulty of the paintings, although not all workers do reproduction work. Some artists who have idealism and talent produce their own painting based on their imagination, usually those who have basic art education. These artists also create concepts for production if a company gets an order, as well as to do the finishing part to make sure that the paintings have a balanced composition.
Some small art shops receive paintings from individual artists who do their work at home, while some communities supply galleries nearby. Most of the production is made to order with the style depending on the client's request. The prices of paintings depending on size, technique, difficulty, painting materials and also the quality of paint. How long the painting will last is determined by the quality of the paint. If wall paint is used, the painting may only last a year. The art quality varies too. Sometimes you can find good artwork with deep philosophy and good techniques, while some are very simple and 'very repro'. There are also choices of style including abstract, pop art, impressionist, decorative, Bali traditional painting, Buddha paintings and many others. Some paintings are made exclusively with less than five pieces of different colors or a slightly different style, but almost all you can find exactly the same copy everywhere.
Every piece of art has its own admirer, whether it is made exclusively or in mass quantities, whether it's just a scratch of a pen or artwork with multitalented techniques. The industry has given lives and hopes to newborn artists so they can slowly take a step further for a brighter future, and hopefully there will be more talented artists who can produce high quality artworks that can make this island even more colorful.