A stunning sunset seems to be perpetually glowing here, The sand along the beach is grayish black in colour because of the lack of waves and temperate water. With secluded coastlines, beaches and mountain ranges, the northern part of Bali is speckled with retreats and a collection of highlights such as mountain trails, marine parks, forest reserves, vineyards, ancient temples, and unique cultural sights to see which are only found in this part of the island.
Singaraja, the former capital city of Bali, was a bustling center of commerce and government while under Dutch rule, but now is a sleepy town with tree-lined boulevards and colonial style residences. Gedong Kirtya, on the main road, holds a unique library of old Balinese manuscripts.
Far from the main tourism areas of the island's south, a wide variety of natural attractions thrive and wait to be experienced from the east to the west of North Bali. From a host of hot springs to cascading waterfalls, great dams to fishing villages and ancient temples, it is the calm coastline that this area is most famous for.
Nightlife in Lovina can be enjoyed in cozy bars where you can have a cocktail or a Bintang beer and listen to live music. Accommodations are just as secluded and relaxing, with food and beverage outlets of their own. But many do opt to go out and explore the neighborhood.
The coast of Lovina (named by the island's late author and nobleman Anak Agung Pandji Tisna as an acronym of 'Love Indonesia'), as well as most of the northern coastline, is comprised primarily of black lava sand, and best noted for its wide stretches of beach and mirror-like sheets of water at sunrise and sunset. The coral reefs can be accessed via a short boat trip that offers many exciting marine sights.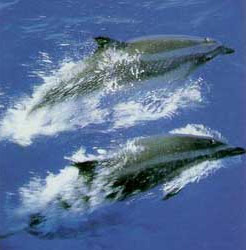 Engage in snorkeling, fishing, a casual dip or take a romantic stroll at sunset. A multitude of shopping opportunities can be found also, both in small shops and market places, intricately woven in with the local community life. One of the most famous sights is the dolphins, frequently seen jumping high out of the water. Dolphin watching tours in Lovina have become an icon of the northern coast, adding to the natural appeal of the area.
Dencarik Village vineyards reside in the upper hills, and the island's major Buddhist monastery overlooks Lovina's coast from within a valley. Brahma Vihara Arama is a sanctuary for learning Buddhism and meditation. Also within the immediate vicinity are more highlights, namely the Banjar Hot Springs and the Tigawasa Village, renowned for its intricate bamboo weavings.
Kayuputih is a mountain village in a rich plantation area full of cacao, coffee, mango, tobacco, cloves and a regular harvest of swallow's nests. Excursions to these sights make for a memorable experience. Breathtaking views of the northern coastline, from neighboring Java's volcanoes on the western horizon to Bali's eastern coast, can be viewed from the hills. While on a stroll, take a break and sit in a village warung and enjoy a coffee.
A hotel which is significantly involved in an environmental project is the Tamansari Cottages in Pemuteran, a popular snorkeling and diving site in northwestern Bali. The 29-cottage resort has succeeded in pioneering a coral propagation movement, the world's largest bio-rock project ever, and also works with the fisheries community and pecalang traditional village security system without which such a risky endeavor would be almost impossible. Last but not least, it has a good relationship with its neighboring tourism entities.
The days and nights at Waka Shorea, the boutique resort nestled along the far shore of Teluk Terima in the heart of the Bali Barat National Park, enables guests to gaze out across the waters of the pristine bay at the island of Menjangan. The island itself is an underwater haven for diving and snorkeling.
Menjangan diving has become a highlight on the underwater adventurer's itinerary. With its 15 to 45 meter visibility and 5 to 40 meter deep drop offs, it boasts rich marine biodiversity including napoleon fish, sea turtles, and various unique tropical fish species. In the outer depths are white tip and black tip reef sharks, barracuda, and sometimes eagle rays and sunfish.
Article Source : baliandbeyond.co.id