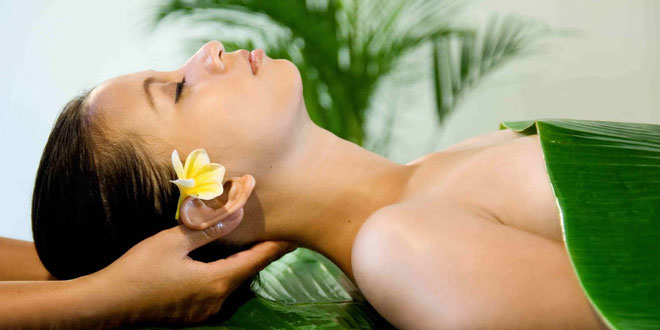 Bali really has become the Spa capital of Asia, if not the world! In Bali almost every hotel, no matter how many stars it may have, has its own spa. Before your book your hotel for your next Bali holiday, check here to see what spa facilities they have to offer, and what other alternatives there are in the immediate area.
Bali has long been recognised for its natural beauty and elegant charm, be it by way of its terraced rice fields, white sand beaches, majestic volcanic mountains or the smiles that beam from swaying dancers to the beat of a 'gamelan'. So much that makes up Bali is in some way connected to a form of aesthetics; dance, music, art, crafts, architecture, religion, cookery and ritualistic beauty. On the top of many a spas list is the 'Balinese Massage'; a massage that anoints a locally prepared oil of a tropical, fragrant flower that is swept, rubbed and gently pressed into the skin; until total relaxation is achieved in hushed moans of appreciation.
Body Massage has been a part of the Balinese culture for many centuries. Most Balinese men go for what they call a Bali Massage [kerok], on a regular basis. For a Westerner it would be rather a horrific experience as coins and small wooden balls are used to scrape and rub up, down and across the person's back. Often upon completion the entire skin surface is one enormous bruise from the bleeding that has been caused under the skin by this strange form of massage. The Balinese love it!
Traditional salons have existed in Bali for many generations, offering treatments that heal most ailments from sexual impotence to acne. These salons still exist in every corner of the island, offering massage, cream baths, lulur exfoliation treatments, manicure, pedicure and many more. They are extremely popular with the locals and more recently with visitors.
As word of these wonderful, natural treatments spread, some of the more exclusive hotels began to include them in their spa plans. The idea has now come full circle and professional spa consultants are creating world class facilities that owe much to the local culture.
The Spas of Bali offer many different massages [Balinese, Indonesian, Thai, Swedish, Shiatsu from Japan and Lomi-Lomi from Hawaii], body wraps, polishes and scrubs [including the Royal Javanese Lulur and the Balinese Boreh], Chinese Reflexology and many Ayurvedic styles of treatment. Advanced spas offer Colon Hydrotherapy and personal treatments such as Vaginal Smoking. In the Ubud area some spas offer Craniosacral Therapy and other Healing treatments.