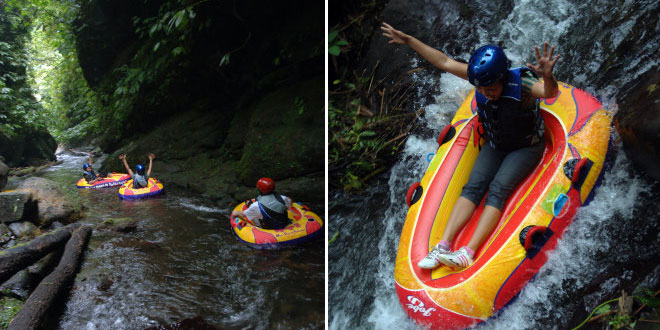 Bali Canyon Tubing Adventure honestly states that it doesn't merely take you on a tour where you just sit in a car and visit places that have been visited by thousands of people before you, and end up in places where people push you to buy all kinds of souvenirs, but they take you to a place where most of the crowds never go… where on you your own tube you can explore an unspoiled part of Bali 'utterly adventurous'.
the only adventure that brings you so close to the un spoiled nature of Bali! Drift down the exciting Siap Stream in Payangan area in your own Inflatable and discover so many different species of plants and animals. A big change that you spot a group of monkeys playing in the surrounding forests or see some rare species of birds. You will be amazed how many different kinds of plants and flowers grow down the canyon.
After arriving in our starting point, our professional guides will give you detailed safety instructions for tubing and Fox flying. From there, our special Off Road car will transport you to the slope of the Canyon, and after a short descend into the Canyon, your great adventure begins!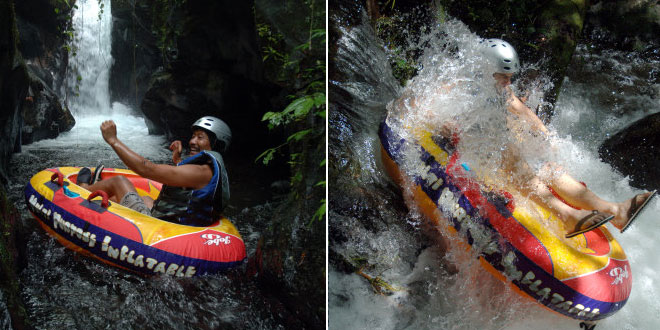 At some places, the small but active Siap river makes it too difficult for you to stay in your own tube. There we made constructions called Flying Fox, that will enable you to actually fly through the canyon. For those who find these flying experiences too exciting we simultaneously constructed wooden footpaths pass the obstacles. So whether you come with your friends or your family, everybody will enjoy this great adventure.
All our equipment meets EEC standard. Your safety is our main concern!
So start the day with an exciting Quad or Buggy tour through the hidden parts of Bali, or combine both activities. You will have some time to recover while enjoying a great hot lunch buffet in the bamboo forest restaurant. After regaining your strength it's time to start with the second part of your great day out, joining the one and only Bali Canyon Tubing tour. Just sit back and relax in your own tube while descending the exciting Siap stream. Pump up the adrenaline when you reach a Flying Fox spot by flying down the canyon. Put simply… it's "float, fly and have fun!"
Bali Canyon Tubing Adventure, (0361) 720-766
Bali Quad Discovery Tours, (0361) 726-438