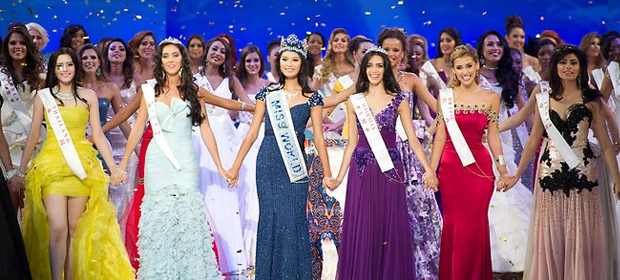 Bali, Island of the Gods chosen as the location of Miss World 2013 because of its natural beauty and cultural diversity. The Miss World 2013 event is scheduled to last for a month in September 2013. Bali will welcome 131 beautiful women ambassadors from various countries around the world. The enchanting tourist island of Bali together with the capital city of Jakarta will jointly host Miss World 2013, where Global Finals will take place at the Sentul International Convention Center on the outskirts of Jakarta on Saturday, 28 September 2013.
Miss World is scheduled to last for a full month in September 2013. Over 125 beauties from around the globe will arrive on the island of Bali one month prior to the finals, staying at Nusa Dua, to be judged here while exploring some of Indonesia's finest beaches, nature, arts and culture.
Nusa Dua will be the location of the quarantine for the participants of Miss World 2013 where more than 130 contestants will attend and compete to be the best and was awarded the crown of Miss World 2013. Most beautiful women from all over the world will be present at this Bali in september. This event will also be attended, by Miss World 2012, which claims can not wait to come to Bali. He himself had heard about the natural beauty and uniqueness of Indonesian culture. What a thrill if Yu Wenxia and the other contestants dressed in batik.
Some of the activities will take place in quarantine Nusa Dua, Bali. The possibility of its activities will be held at several beaches in Nusa Dua or Kuta beach. It may be that the contestants will be invited to participate in activities at Tanjung Benoa watersport .
Yes, for the first time Indonesia hosted an international beauty competition. Of course, various preparations have continued to do for smooth event. Including accommodation for finalists during the quarantine period. The contestants will be visiting the various places of interest in Bali. So that this activity was expected to be a good opportunity to introduce the potential of tourism more widely, such as Tanah Lot, Kintamani, and will also look at Pura Besakih. The place chosen to highlight the Balinese culture.