Santa Fe-Bar and Grill in Bali is one restaurant which has become one of the most visited restaurants of the island. Established in 1993, the SANTA FE Bar and Grill café is located in Jl. Abimanyu No. 11A (former known as Jl. Dhyanapura) Seminyak, Kuta, Bali. Serving food, beverages and music, we are open to our customers from 8:00 AM – 03:00 AM , 7 days a week, including public holidays.
Seating over 100, Santa Fe Bar and Grill can provide you with various food and beverages from Indonesia, Europe and Mexico. Besides our traditional home-style Indonesian meals, our specialties include pizzas, Mexican cuisine and we dare you to taste our "Special Tonight" meal!
Santa Fe and Bar also entertains you with live bands every evening in a relaxed atmosphere. Enjoy your food and music in a uniquely designed restaurant which has that great feeling enjoyed by Bali tourists, expatriates and local customers alike.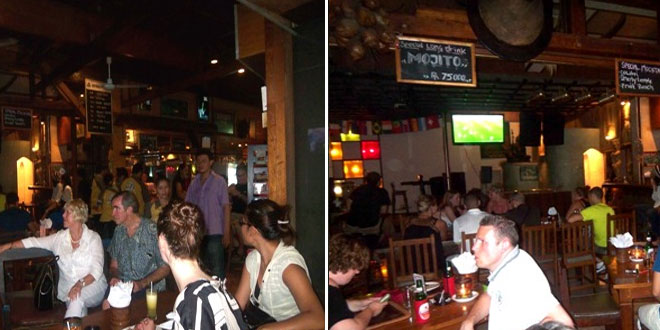 We arrange special events designed for our customers needs. For over seven years, we've presented many events that attract many visitors from Bali and beyond Bali. Our specialties are Pizza, Mexico cuisine and we dare you to taste our "Special Tonight" which come from various countries.
You can relax and have a fine meal or come later to drink and listen to live music. The wood-oven pizzas and Mexican food come highly recommended. And the decor is straight out of the old west. Pictures of cowboys and Native Americans adorn the walls. You can saddle up to the western style wooden bar and order a drink from the full bar menu, or relax at a sidewalk table and watch the people go by.