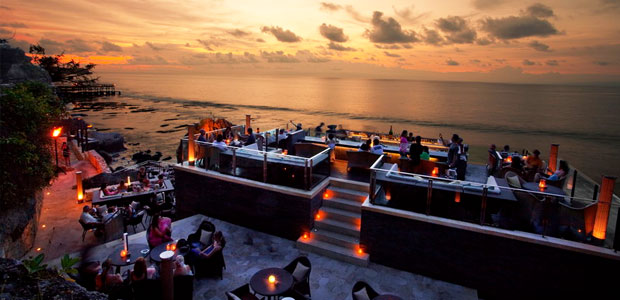 The Rock Bar is located along the 1.3 kilometer coastline of AYANA Resort and Spa Bali.  It has been heralded as one of the world's best bars by authoritative sources including CNN and The New York Times, and in 2011 was voted Bali's Best Sunset Venue in The Yak magazine readers' awards.
Located on natural rocks 14 meters above the Indian Ocean at the base of AYANA's towering cliffs, this innovative open-top bar is Bali's most glam sunset and after-dark destination. Soak up the chic ambience and superstar views as the rhythm of the ocean merges with the funky tunes vibing from the DJ booth elevated above the bar. The location is not the only thing 'on the rocks'. Signature cocktails are served in chic glasses suspended over natural rocks, within an ingeniousfish-bowl base.

A delectable selection of tapas is also served 'on the rocks', on natural stone plates. Even your bill is presented 'on the rocks', as waves break below and stars glitter above, with only the sea between you and the horizon. You couldn't get any closer to the sunset without setting sail
The bar's minimalist design maximizes the natural beauty and layout of the rocky outcrop on AYANA's Kisik Beach. Either side of the rock, two timber platforms featuring comfortable sofas provide additional viewing points. One is accessed via a natural cave, a unique entrance that leads to a 'secret' garden over the beach. The bar is open to the elements with nothing to block the fresh sea air and the changing colors of the sky above. Jutting out from the cliff-face, crystallized rocks hundreds of years old add natural glitter to this spectacular venue.

MENU
The Rock Bar's wine list features premium labels from Australia, New Zealand, Chile, California and France, and an extensive range of top-shelf Aperitifs and Bitters, Sherry and Port, Scotch and Single Malts, Cognac and Liqueurs. The cocktail list includes more than 40 classic and contemporary creations. The Martini selection has been devised by Maestro Laval Lim-Hon, who has mixed cocktails during his 30-year career for celebrities and royalty such as Prince Rainer and Princess Grace Kelly of Monaco, Liza Minelli, Shirley Maclean and Clint
Eastwood. A small selection of delectable tapas dishes and desserts is also available.
Capacity: 236 people (seated), 300 (cocktail style)
Regular opening hours: 4pm-1am everyday (until 2am on Friday – Sunday)
Dress code: Smart attire; no singlets or boardshorts, and no alcohol-branded attire.
Peak times: Sunset is the busiest time, but after-dark is just as magical with twinkling stars above and the spot-lit
ocean in front, and the cooler night air.