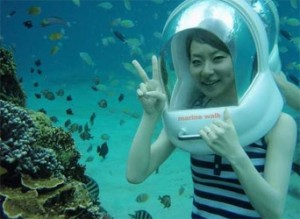 Walk under the waters of Lembongan with a revolutionary diving system. You don't have to know how to swim or dive, you just breathe naturally and girls can keep their makeup on. Bali Marine Walk using an open-ended helmet that allows the wearer to stay underwater by just putting it ober head. The helmet is connected to the scuba thanks by air hose that supplies it with air. The interior of the helmet is designet with a defogging mechanism that prevents the front window from fogginh. The helmet is also fitted with a vent which continously exhausts unneeded air from the helmet. Since the bent is located at the back, there is no air valve to obstruct the guest's view.
Guest wearing helmet descend a ladder to the ocean or aquarium flor where they can walk and experience the underwater world. Guest remain underwater for 15 minutes. The time was determined as the safest length of time for guests who have never been underwater before.
Marine Walk Include:
•  Full Air Condition • Return boat transfer Sanur – Lembongan • Snorkling • Cycling • Surfing (Surfing board rental $15.pax) • Mineral water & Cold towel • Safety Instruction • Experienced instructor will be there to support you • Use of Safety equipment • Use of locker, towel, changing room and shower facilities • Set menu Lunch • Soft drink or mineral water and cake • $100.000 USD insurance coverage.

What to Bring/Wear
•  Swimsuit • Sunscreen • Changed clothing

Notice
Guest with heart or lung problems, on medication, pregnant, with asthma or other respiratory ailments cannot dive. Guest with specific needs can also enjoy Bali Marine Walk as long as the can use both of their hands.
BALI SEA WALKER PACKAGES