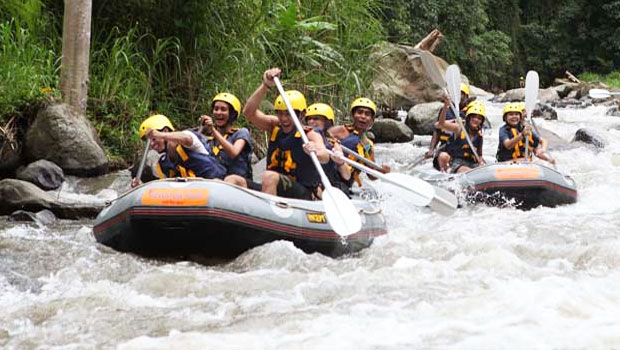 Bali Adventure Rafting is the only Bali rafting company that offers '5 star' service from the start to finish.  Established in 1989 and renowned as Bali's safest family rafting company, only Bali Adventure Tours offers a fully computerized reception centre coupled with fast walk-through equipment outfitting and easy access to the river via safe, engineered steps, complete with hand rails and scenic viewing platforms.  Grab your oars and get ready to rage with this exhilarating rafting adventure on the spectacular Ayung River.  Whether you are 5 or 75, a natural or a novice, our white water rafting in Bali ride is safe, fun and a breathtaking experience to be enjoyed by the whole family.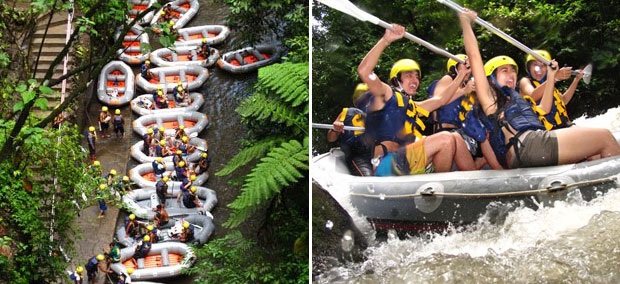 The action starts when you launch into an 8 km river stretch, navigating through 27 class II and III rapids set to a backdrop of wild unspoiled rainforest, towering gorges and magnificent rice paddy terraces. Professionally trained and experienced guides pilot safety-equipped Avon rafts through the best river runs, dramatic drops and spectacular waterfalls to make your Bali rafting ride a fun and awesome experience. End the action packed 1.5 hour (approx) journey with hot showers, clean towels and changing rooms followed by a hot gourmet buffet feast at our private restaurant overlooking majestic mountains and rice fields.
Bali Adventure Rafting boasts the longest course on this river and has unique facilities that have attracted international personalities such as Magician David Copperfield, Supermodel Claudia Schiffer and Hollywood Action Star Jean-Claude Van Damme. Why travel two or three hours to other river locations when Bali Adventure Rafting is only one hour drive from most tourist centres and offers Bali's best White Water Rafting together with '5 star' facilities, service and safety second to none.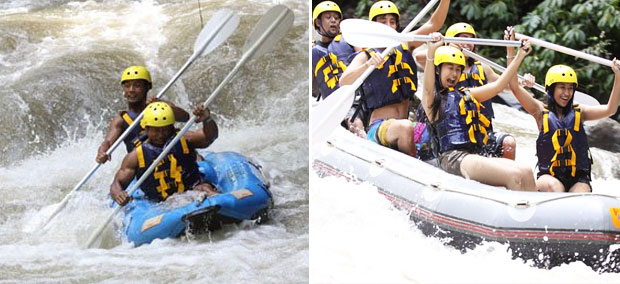 Bali Adventure Tours is the only rafting company in Bali, using equipment that is approved to international standards.
Tour includes:
Air conditioned return transfers via short scenic drive
Shortest distance to the Starting Point
Computerized reception and fast walk-through equipment outfitting
Internationally acclaimed AVON Rafts  fitted with approved safety foot cups and hand ropes and all safety equipment
Quick access to the river and instruction by experienced guides
Hot showers, changing rooms, towels
Buffet lunch with complete Restaurant and Bar service
WHAT TO BRING RAFTING:
Wear light clothes or bathers
Wear runners or strapped sandals if possible
Bring a change of clothes and a small towel
You may want to bring sunscreen and a hat
Beware of clothes with non fast colours
White Water Rafting tours in Bali are NOT all the same.  Some rivers are situated in various parts of the island and you may be required to spend up to 5 hours on return bus trips, however the AYUNG RIVER is located only one hours drive from most tourist centres.  All rivers in Bali are class II to III but may rise to class IV in the wet season (November – March).
Equipment varies with each Bali rafting company, but BALI ADVENTURE TOURS use only British AVON rafts with foot cups and hand ropes fitted to all, as recommended by the World White Water Rafting Association.  With seven sizes of jackets available, correct fitting is assured for every person.
Bali Adventure Tours
Adventure House, Jl. By Pass Ngurah Rai, Pesanggaran, Bali.
Tel:(62-361) 721480 Fax:(62-361) 721481