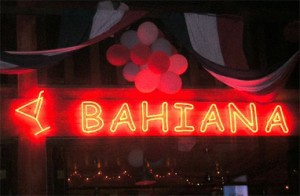 Bahiana is a French salsa bar located in the Island of the Gods, here to say Bali, in Indonesia. You will discover plenty of coktails and rum based soaked preparations in a festive salsa ambiance!
BAHIANA is located in a two levels building composed with a ground floor and a first floor. The total surface is 380 m², with 200 m² downstairs and 180 m² upstairs.
Thanks to warm colours and an inspired Cuban decoration, ambiance is hot and relaxed. The Seminyak area is well known to be the "French district" in Bali!

BAHIANA
Jl. Abimanyu 4 – Seminyak – Kuta 80361 –
BALI – INDONESIA –
Tel: +62 361 738 662