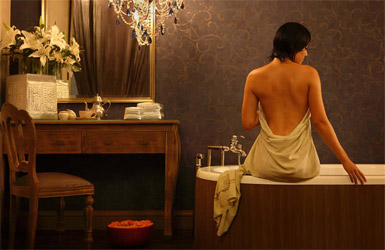 DaLa Spa is testament to a pursuit of excellence, where the smallest of details are of the greatest importance. Everything from the wonderfully original treatment rooms to the absolute care and attention of their lovely therapists creates an experience that goes way beyond your expectations.
The professional and well-trained therapists at DaLa Spa steer guests in a floating vessel, if you will, into a world of unsurpassed bliss. The detoxifying and energy restoring 'High Tea', delicious 'Tuti Fruity Spa' that ignites the senses by using fresh fruits only, the high class insomnia, headaches, fatigue, and stress-relieving 'The Shirodara', and the signature, exfoliating 'Royal Wedding Ritual' are just a few of DaLa's outstanding treatments. Aside from the superb healing therapies, de daun's management has invested a lot of quality time in creating an impressively beautiful menu with a detailed elucidation for every treatment.
The decor of the treatment rooms deserves special mention here. The thought and energy that has gone into creating them is obvious. With seven differently themed rooms representing seven exotic flowers, the colour ways, lighting and fine touches all add up to create a truly unique atmosphere in which to experience your treatment. Being ushered into an opulent room featuring an impressive chandelier suspended over an enormous bath, draped curtains, a giant wall mirror, luxurious chairs and absolutely perfect lighting. Nothing creates atmosphere like lighting and DaLa Spa have it spot on

DaLa's commitment in providing high quality products is obvious in its massage oils that are a blend of sweet almond-based oil and 100% pure essential oils. In naturotherapy, sweet almond oil is often referred to as 'the queen of all carrier/base oils'. The spa's exceptional spa amenities — such as soaps, shower gels, shampoos, and conditioners — are prepared from green tea extracts unified with pure essential oils, soothing guests' skin flawlessly and untainted

DaLa Spa is truly unlike any other, as its treatments, prices, style, and treatment rooms are of an unsurpassed excellence, very affordable, bewilderingly detailed, unique, warm, and awe-inspiring.
DaLa Spa, Artfully Designed… Immaculately Delivered.
At the newly finished restaurant on the property, guests can indulge in yet more exquisite flavours and treats