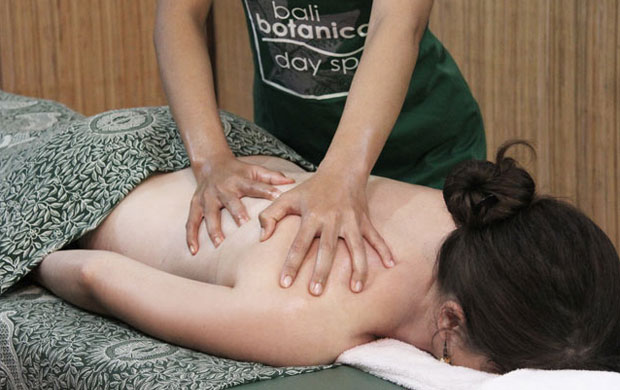 Hidden from the main road amidst lush natural gardens, this calming day spa reflects Javanese architecture with a touch of colonial style. The welcoming oasis presents a sense of harmony between the landscape, the surrounding rice fields and the bordering stream, all joining in a concerto of relaxing greens. The tasteful treatment rooms are well-spaced, each with its own bathtub, shower and splendid view of the natural habitat.
A team of dedicated people offer superior Spa experiences focusing on balancing the seven main chakras. "To keep the balance is essential", yoga teacher, energy therapist and Spa trainer / advisor for Bali Botanica Day Spa in Ubud. Our aim is to deliver a deep sense to the Spa experience, a contact with the soul and a joyful experience to take home and experience forever.
SPA PACKAGES
A DAY AT BALI BOTANICA SPA
Inclusive: Transportation from your hotel (in Ubud area), Note: Inquire about the extra cost if you are not staying in Ubud, Healthy juice upon arrival.
First Treatment – Ayurveda – Chakra Dhara Massage In India, Ayurveda means " The Science of Life ". It is a holistic science that is more than five thousand years old and is believed to be the oldest healing therapy. Ayurveda focuses on prevention, longevity and natural healing.
It promotes circulation, increases flexibility and relieves pain and stiffness. An important part of the Ayurvedic massage is called "Chakra Dhara", this consists of dripping approximately one liter of warm herbal oil on the chakras (key energy points of the body) in order to balance the energy flow and purify the body, mind and spirit.
Our therapist will skillfully treat your body with an array of repetitive and slow movements such as kneading, squeezing and rubbing. This will eliminate toxins and other impurities trapped inside you. After this treatment you will feel wonderful!
Botanica – Tropical Spa Lunch A special three course light menu is prepared and served to our
guests at a near by restaurant. (Walking distance)
Herbal Botanica Facial This age-old treatment softens, moisturizes and firms the skin while promoting new cell growth. First we apply a refreshing milk cleanser. This is followed by a peeling and exfoliation treatment using a natural herbal scrub. Next, a face, neck and shoulder massages with a steam treatment followed by manual extraction. Then, as we apply a facemask relax deeply for 15 minutes while it does its wonderful work! The treatment concludes with an application of refreshing iced towel and moisturizing cream.
Herbal Body Scrub and Therapeutic Bath
Cleaning in depth! Even though our bodies are washed daily, dead skin remains and clogs the millions of pores allowing the whole body to breathe properly. Botanica's exfoliants are made of 100% natural products.
Lulur scrub – rice powder, turmeric and sandal wood – moisturizer – fresh yogurt
Milk scrub – milk base exfoliant – moisturizer – fresh yogurt
Coffee scrub – Coffee exfoliant – moisturizer – fresh papaya
flower bath Choice of bath Bath of milk, fresh flowers and essential oil; Bath of spices – herbs, clove, cinnamon; Bath of sea salt and star anis; Hair Creme Bath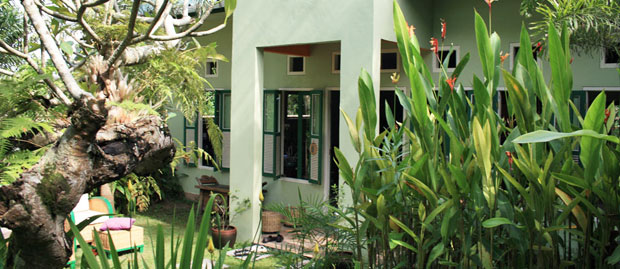 SPECIAL JOURNEY – GOOD MORNING
Inclusive: transportation from / to hotel, information with your hostess / wellness juice, Ayurveda Chakra Dhara, relaxing break, body exfoliation and bath
SPECIAL JOURNEY – CHOOSE YOUR TIME
Inclusive: transportation from / to hotel, information with your hostess / wellness juice, mandi lulur or other mandi massage, exfoliation/bath, botanica herbal facial, manicure or creme bath
SPECIAL JOURNEY – GOOD AFTERNOON
Inclusive: transportation from / to hotel, information with your hostess / wellness juice, massage 75 minutes, relaxing break, botanica herbal facial,
manicure or pedicure
Bali Botanica Day Spa
Jl. Sanggingan – Ubud
Gianyar – Bali, Indonesia
Phone: +62.361.976739