The Ubud Monkey Forest is a nature reserve and temple complex in Ubud, Bali. It houses approximately 340 monkeys which are known as long-tailed Macaques (Macaca fascicularis). There are four groups of monkeys each occupying different territories in the park. The Sacred Monkey Forest is a popular tourist attraction in Ubud, and is often visted by over 10,000 tourists a month.
The Monkey Forest is owned by the village of Padangtegal and village members serve on the Monkey Forest's governing council. The Padangtegal Wenara Wana Foundation manages the Monkey Forest and serves to maintain its sacred integrity and to promote the sacred site as a destination for visitors.
Walk around. Enjoy the serene atmosphere. The forest comprises approximately a tenth of a square kilometer (approximately 27 acres) and contains at least 115 different species of trees. The Monkey Forest contains the Pura Dalem Agung Padangtegal temple (shown on the left) as well as a "Holy Spring" bathing temple and another temple used for cremation ceremonies.
The sacred forest is situated at the Monkey Forest Street, which is the main street of Ubud, so you won't miss it. Shops and restaurants line up the streets, so you might as well check them out while you're there. A variety of hotels can be found near Monkey Forest Ubud. Good choices for comfort and services at Monkey Forest Street are Komaneka Resort and KajaNe Mua Villa or you can click here to find other alternative hotels in Monkey Forest Ubud
The Monkey
The monkeys within the Sacred Monkey Forest of Padangtegal are commonly called long-tailed macaques. Their scientific name is Macaca fascicuiaris. Macaques are found throughout Southeast Asia and many species of macaques live successfully in areas that are heavily utilized by humans. On Bali, there are Balinese long-tailed macaque troops (populations) that live in areas where they have little to no contact with humans and troops that come into contact with humans on a regular basis. However, despite the fact that many species of macaques thrive in areas that are heavily utilized by humans, there is evidence that the viability of Balinese long-tailed macaques (the ability of macaques to continue to thrive) may be dependent upon the conservation of Bali's forested areas.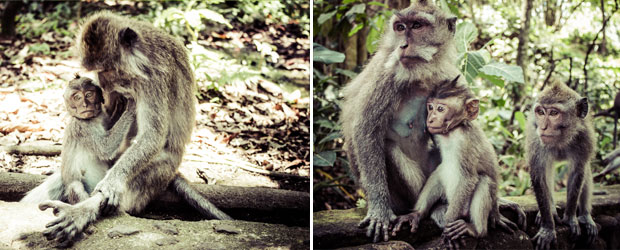 Within long-tailed macaque societies, females are typically born into and remain with a single troop for life. In contrast, adult and sub-adult males may migrate between troops (young adult males typically leave their natal troop between the ages of 4 to 8 years). In order for a migrating adult or sub-adult male to be accepted into a new troop, migrating males must align themselves with a troops' females and be accepted by those females. Therefore, long-tailed macaque societies or troops are made up of 'matrilines' ('matri' is a root word that means 'mother').
The Temple
The Monkey Forest of Padangtegal represents a sacred Balinese Hindu site. In trying to understand Balinese Hinduism it is important to keep in mind that Balinese Hinduism is unlike Hinduism practiced in other parts of the world today. Balinese Hinduism combines aspects of Animism, Ancestor Worship, Buddhism, and Hinduism.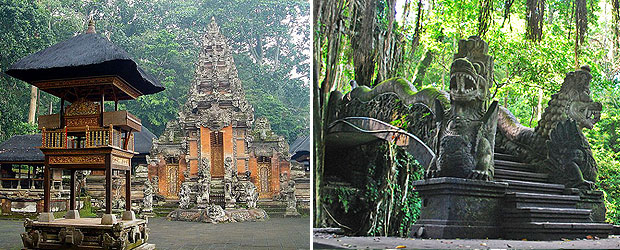 Animism and Ancestor Worship
Some of the first evidence of extensive human inhabitation on Bali dates back to approximately 2,500 B.C. The religion of the Bali Aga (original Balinese) centered around both Animism and Ancestor Worship. Ancestor Worship represents the belief that prosperity is associated with a relationship that exists between the living and the dead (prosperity is something that can only be achieved through intense worship and obtainment of blessings from ancestors). Animism represents the belief that inanimate objects and other elements of the natural landscape can possess souls which can help as well as hinder human efforts on Earth.
It remains a mystery as to whether or not the Bali Aga ever inhabited the site that is now known as the Sacred Monkey Forest of Padangtegal. Currently, there are only a few remaining Bali Aga villages on Bali and none of them are located in the vicinity of the Sacred Monkey Forest. However, today many Balinese believe that ravines and forested areas are particularly notorious for harboring human and animal spirits. These beliefs probably originated from the Bali Aga and suggest that the Bali Aga may have considered sites like the Monkey Forest of Padangtegal to be sacred.
The Forest
The presence of sacred forest is a demonstration of the harmonious coexistence of humans and nature. In Bali, sanctuaries such as the Monkey Forest are usually in sacred village areas, often surrounded by temples. These cultural sanctuaries are not only an important part of Balinese heritage, but also an important part of everyday live. Temple festivals are regularly held for the villagers and the gods in such areas.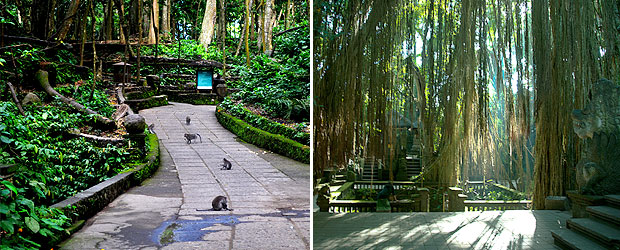 A Balinese temple is more than just a collection of pagodas and pavilions. The area enclosed by temple walls and the forest area surrounding it is sacred. These temples and the forest are essential for renewing contact with the spiritual world. The activities associated with these areas are essential in maintaining harmony between humans, nature and the cosmos. Not only are ancestral spirits and gods given offerings and prayers, but also the spirits of trees and statues in the Monkey Forest are given offerings and prayers by the Pemangku and local villagers
The Trees of the Forest
The Sacred Monkey Forest, in conjunction with Udayana Univeristy in Denpasar have identified 115 separate species of trees.
Some of these trees are considered holy and are used in various Balinese spiritual practices.  Examples include the Majegan, which is used exclusively for the building of shrines; or the Berigin, whose leaves are used in cremation ceremonies.
Of special significance is the Pule Bandak, a tree that embodies the spirit of the forest, and is used in the making of powerful masks.  These masks are only used inside the temple, and the trees are not killed to make them.  An auspicious day is chosen and the Priest asks permission of the tree spirit to cut a small piece of its wood.  The spirit thus remains embodied in the mask.