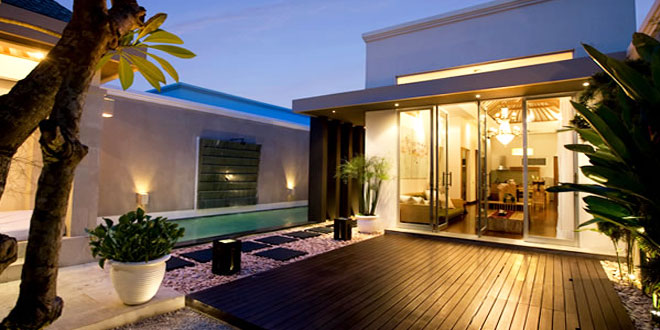 An intimate luxury resort nestled on the isle of Bali, The Seiryu possesses a beauty which seems to be designed by the hands of the gods. A boutique hotel in every sense, this unique property has achieved the perfect balance between such crucial elements in hospitality as comfort, design and luxury. Its ideal location, just a ten-minute walk away from the Seminyak district highlights the convenience of an already outstanding property. It is perfect for guests no matter what their needs, from honeymooners to regular holiday travellers.









The Villas
With only eight guest rooms available in total, this boutique Balinese villa offers an almost unrivalled level of exclusivity and privacy. Each of The Seiryu's villas showcases the latest in design trends not to mention a butler who will assist you in every service you may need. This five-star service is perfectly complemented by the modern amenities that each of the accommodations provides for guests, such as complimentary WiFi internet connection. Furthermore, each villa has a private pool to give you the opportunity to take a refreshing dip, or even enjoy a romantic pool-side dinner, all in the comfort and privacy of your own accommodations.
The Seiryu is ensconced on the enchanting isle of Bali, one of the most beautiful and exotic destinations in the world. Although the villas are located just outside of Seminyak, the hotel provides complimentary shuttle service to Legian, Kuta and Seminyak, putting all of the leisure and entertainment options of the surrounding areas at your fingertips.
Rooms : 8, Exotic location, Exclusive and elegant, State-of-the-art amenities, Modern décor.
Services
• Air-conditioning • Garden • Terrace • Safe deposit box • Beach • Airport transfer • Reception open 24 • hours a day • Room service • Pressing/ironing • Concierge • Indoor pool • Massage service • Jacuzzi • Executive floor • Luggage storage • WiFi access • DVD Library • Music Library • Countryside
In Room Services
• Air-conditioning • Safe deposit box • Ironing Board • Kitchenette • Microwave • Mini bar • Room service breakfast only • Room service all day • Flat Screen TV • Cable / Satellite TV • VHS/DVD • WiFi Internet • Alarm clock • Direct phone • Fireplace • Central heating • Complimentary tea & coffee • Terrace • iPod connectivity • Non-smoking rooms • Smoking rooms