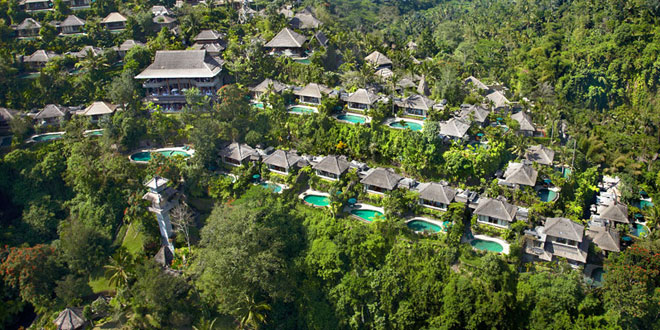 Located in the spiritually revered and picturesque area of Kedewatan, Ubud, Bali, The Royal Pita Maha's awesome atmosphere is enriched with its celestial history. Overlooking the Ayung River at Batu Kurung, The Royal Pita Maha is a luxurious expression of the true essence of Bali. This is an ideal place to pampered, a place of healing, reflection, contemplation, meditation and serenity.
The Royal Pita Maha is constructed with traditional design methods and an acute sensitivity to the environment. The resort is fully integrated into the surrounding landscape of sweeping rice terraces, river gorges and tropical woodlands. This integration imbues the resort with an overwhelming sense of peace and harmony, creating a complete sense of oneness of nature. With each villa having its own private garden and swimming pool, The Royal Pita Maha is truly a resort of unparalleled luxury and beauty.
The timeless spirituality of this setting penetrates the senses to enrich the body, mind and soul. The Royal Pita Maha exhibits the fundamentals of traditional Balinese architecture through a collection of villas with aesthetic and visual appeal. Utilizing quality indigenous materials and modern innovation, each villa category has been carefully designed to recreate a refined environment of heightened comfort and privacy.










Accommodation at Royal Pita Maha
Enclosed within a Balinese compound, the thatched roof Pool Villa commands a breathtaking vista of valley greenery, while the Healing Villa offers a holistic accommodation alternative that is surrounded by a riverside organic farm. The Royal Villa is a luxurious dwelling extending over three levels and the jewel of the resort is the Royal House, which replicates the extravagance of a Balinese palace and features an intimate wedding chapel, two pavilion bedrooms and garden courtyard.
Room Facilities at the Pool Villa
The well ventilated apartments are equipped with the most modern facilities, have a relaxing atmosphere and make their guests stay a memorable one. These apartments come with three wide and comfort bedrooms villa designed in a combination between classical and modern style. It offers complete privacy. It comes with one queen sized bed and two single beds. The Room Facilities at The Royal Pita Maha A Tjampuhan Relaxation Resort in Bali includes spacious writing desk, adjustable lighting and two-line and hands-free telephone with data port, air conditioning, large balconies and windows with the city and surrounding hinterland views.
Facilities
Dinning
Savour the regionally inspired cuisine of Terrace Restaurant against a breathtaking vista of tropical forest. The Ayung Valley Restaurant celebrates a culture of culinary delights where an eternal flow of mountain water has carved its path through the precious landscape.
Leisure
A collection of in-house activities showcase Bali's artistic heritage with interactive classes of dance, music, painting, cooking, fruit carving and wood carving. While an adventure program of trekking, cycling and rafting caters to those with more active tastes.
Banquet
Facilitated with a unique Balinese themed convention centre and exclusive wedding chapel, The Royal Pita Maha can anticipate the dining needs for business, social and private events.

Royal Wellness and Healing
Royal Wellness and Healing yoga programs are unlike any others offered in Bali. The yoga practice space could be considered one of the most idyllic places to practice yoga in the world. You can listen to the sounds of the Ayung River flow as you move within your body to the ancient rhythms of yoga ~ the union of body, mind and soul.