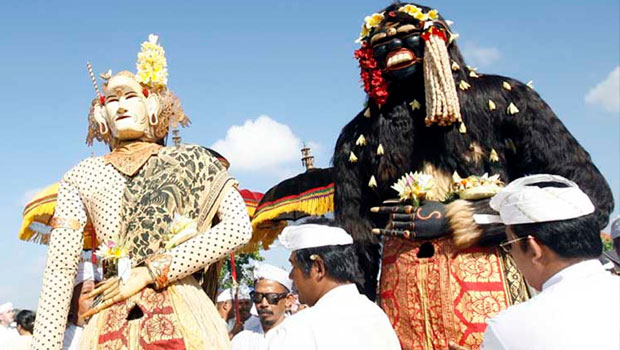 People in traditional attire stride side-by-side during the Galungan celebration. The festive sounds of gamelan music can be heard. Women carry items above their heads. Also visible are a pair of large effigies accompanying the walking crowd.
Face barong Barong Ket is not like that more resemble an animal. Barong Landung humanlike face. There are a pair of male and female. Barong Landung ordinary men called Jero Gede, black-faced. Barong Landung While women commonly called Jero Luh, white face. These colors are symbolic. Nor was the appearance of the symbol.
What symbol? Depending on what legend attached to the Barong Landung. Well, here's where the unique Barong Landung, no uniformity in the legend, so is rather difficult to prosecute when the actual art was born, and for the sacred symbol of what is born.
The Barong Landung is a result of the acculturation between Bali and China that occurred around the 12th century. This tale has been passed down through generations. It is certainly inseparable from myths and interpretations along the course of time, but the central character was real and ruled Bali at that time.
And so it was that King Jaya Pangus, who also went by the noble title of Dalem Balingkang, married Kang Tjin We. This could possibly have been a political marriage; yet other sources also tell that Tjin We was a Chinese girl who lived in a Chinese temple in Kintamani at that time.
The only big problem in their marriage was apparently due to the couple not being blessed with children. This was a big problem because a dynasty needed a progeny. The king decided to set off to meditate at Mount Batur, asking for divine guidance so that he may be blessed with offspring.
However, another version of the tale says that besides not having any children their kingdom was suffering from a plague. So the king's trip to the mountains was also to ask for guidance in overcoming the outbreak.
In Batur the king met the lake goddess Dewi Danu, with whom he eventually had an affair with, and from this relationship a son was born. Three years passed and Kang Tjin We decided to search for her husband in Batur and she was shaken by the reality that met her there. Dewi Danu was no less distraught, as the king had told her that he was single.
The goddess was infuriated. In her rage she cursed Jaya Pangus and his empress, who later were transformed into a pair of effigies or dolls, the Barong Landung. Later these 'barongs' were placed at the temples and were only brought out to 'attend' ceremonies held at other temples and ngelawang or to 'go on village parades' at the time of certain outbreaks.
The cultural ties between Bali and China seem exceedingly broad in the Barong Landung story. The Dalem Balingkang title itself is said to have come from the words 'Bali Kang'. However it remains unclear as to why the king is depicted as having a hideous face, yet from the name Jaya it would mean 'victor' and Pangus depicts handsomeness.
Since when has the acculturation between Bali and China taken place? No one can provide a precise answer. No one has a certain answer. There is no literature that can provide an exact date. But it is clear that this blend of cultures has taken place since a long time ago, so there are things that we do not realize that have been a result of the marriage between them both. Several village names in Bali were formed from Chinese words. The name of the village of Pingan in Kintamani for example, is actually from the word Ping An, which means 'safe and sound'.
The processions have now arrived at the destination temple. Both of the Barong Landung stand tall at the temple gates. Several small children approach with a bit of edginess and curiosity. One day their parents will tell them the tale of the Barong Landung's origin, as the oral tradition remains strong in Bali.