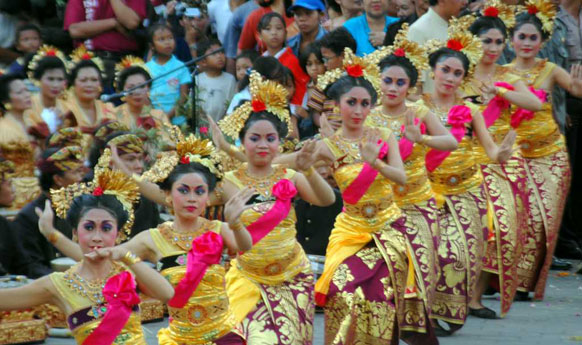 For one full month, the best of Bali's dances, music, and artistic expressions will be on display as this tourist paradise showcases its best cultural presentations. There are daily performances of dance and music alongside countless related cultural and commercial activities during which literally the whole of Bali comes to the city to present its offerings of dance, music and beauty. The arts fiesta, Bali's largest, will feature more than 300 traditional and contemporary art performances, exhibitions and discussions on cultural issues. Around 15,000 local and international artists are expected to participate in the one-month festival from June 11 through July 7.
For its 34th Bali Arts festival, organizers have chosen as theme of the Festival : "Paraos-paros", meaning :  Dynamic Togetherness. The event itself will be highlighted with fascinating features among which are dance dramas (Sendratari), Bali Modern theatre, Gong Kebyar maestro, Photography Workshops, culinary festivals, and musical performances. There will also be exciting competitions such as documentary movie competitions, handicraft competitions, literary writing, painting, photography competitions. Parades and processions will also be presented including the Parade of Flowers and coconut leaves arrangements, a culinary and fashion Parade, Nglawang Parade, Dramatari Arja Parade, Gong Kebyar Parade, Semara pagulingan Parade, Joged Bumbung Parade, and many others.

Through its 34 years history, the Bali Arts Festival has been a media to rediscover and preserve the unique and celebrated arts and culture of Bali, at the same time increase its people's welfare. Through this special annual event, it is hoped that the true authentic wisdom and philosophy of the people of Bali will not only be preserved but will also grow and spread to other parts of the world.
Schedule
Monday, June 11 201

2

Activity

:

Opening Parade Of The 34th Bali Arts Festival 2012

Time

:

2 PM

Place

:

In Front of the Balinese People Struggle Monument "Bajra Sandi" Renon Denpasar

Activity

:

Opening Ceremony Of The 34th Bali Arts Festival 2012, and Oratorium Purusadha Santa Performance by the Bali Provincial Government arranged by Institut Seni Indonesia Denapsar

Time

:

8 PM

Place

:

Open Stage Ardha Candra

Tuesday, June 12 2012

Activity

:

Special Dance Performance from Paguyuban Sadulur Belitar (GUSTAR)

Time

:

11 AM

Place

:

Angsoka stage

Activity

:

Special Dance Performance from Palangkaraya

Time

:

4 PM

Place

:

Angsoka Stage

Activity

:

Special Dance Performance from Mataram City.

Time

:

8 PM

Place

:

Angsoka Stage

Activity

:

Modern Balinese Theater Performance: by SMA 1 Kuta, Badung Regencey

Time

:

8 PM

Place

:

Ksirarnawa Hall

Activity

:

Children's Gong Kebyar Exhibition Group Satya Werdi from Satriya, Pendem Village, Jembrana Regency WithBuana Giri Swara Children's Gamelan Group, Baturning Village, Mambarl, Abiansemal Sub-district, Badung Regency.

Time

:

8 PM

Place

:

Open stage Ardha Candra

Wednes

day, June 13 2012

Activity

:

New Dance Creation Performance from Taman Sari Dance Group Denpasar.

Time

:

11.00am

Place

:

Angsoka stage

Activity

:

Joged Bumbung Exhibition Joged Group from Kuwum, Mambal, Marga, Tabanan Regency

Time

:

4 PM

Place

:

Angsoka stage

Activity

:

Indian Dance Performance India Culture Centre

Time

:

8 PM

Place

:

Ayodya stage

Activity

:

Arja Exhibition Graha Kumara Santi Group, Culik Village, Abang Sub district, Karangasem Regency.

Time

:

8 PM

Place

:

Ksirarnawa Hall

Activity

:

Women's Gong Kebyar Exhibition Mekar Suara Santi Group, Puri Kanginan Bangli Regency with Praja Nara Swari Group, Klungkung Regency.

Time

:

8 PM

Place

:

Open stage Ardha Candra

Thurs

day, June 14 2012

Activity

:

Gambuh Reconstruction Performance Gambuh Group from Karang Village, Nusa Penida Sub-district, Klungkung Regency.

Time

:

11 AM

Place

:

Angsoka Stage

Activity

:

Joged Bumbung Exhibition Joged Bumbung Group from Berawatangi, Melaya Sub-district, Jembrana Regency.

Time

:

4 PM

Place

:

Ayodya Stage

Activity

:

Drama Gong Exhibition Sekar Cempaka, Klungkung Regency

Time

:

8 PM

Place

:

Ayodya stage

Activity

:

Modern Drama Collaboration London University and Institute Seni Indonesia Denpasar

Time

:

8 PM

Place

Ksirarnawa Hall

Activity

:

Adult Gong Kebyar Exhibition Alit Sundari Gamelan Group, Batuyang, Batubulan Kangin, Gianyar Regency with Gringsing Bang Group, Bangbang, Bangli Regency.

Time

:

8 PM

Place

Open Stage Ardha Candra

Fri

day, June 15 2012

Activity

:

Traditional Dance and Music Bujang Sebiji Group, Sintang Regency, West Kalimantan Province

Time

:

11 AM

Place

:

Angsoka Stage

Activity

:

Parwa Reconstruction Performance Subagan Village, Karangsem Regency

Time

:

11 AM

Place

:

Angsoka Stage

Activity

:

Collosal Drama Musical Indonesian Film Artists Asscociation Bali Province Jl. Pulau Ambon no 58 Denpasar.

Time

:

8 PM

Place

:

Ksirarnawa Hall

Activity

:

Drama Gong Exhibition Puspa Anom Group, Banyuning Village, Buleleng sub-district, Buleleng Regency

Time

:

18.00 – 19.30

Place

:

Ayodya stage

Activity

:

Chidren gong kebyar exhibition Surya Kencana Gamelan Group, Banjar Pande, Bangli With Gita Ulangan Gamelan Group, Alap Sari sub-Village, Jineng Dalem Village, Buleleng Sub-district, Buleleng Regency.

Time

:

8 PM

Place

:

Open stage Ardha Candra

Satur

day, June 16 2012

Activity

:

Work Shop by Fine Arts Maestro

Time

:

11 AM

Place

:

Ratna Kanda Stage

Activity

:

Leko Reconstruction Performance Banjar Tinungan, Baturiti sub-district, Tabanan Regency.

Time

:

11 AM

Place

:

Angsoka Stage

Activity

:

Lontar Usadha Bali Simposium

Time

:

3 PM

Place

:

Ayodya stage

Activity

:

Arts Performance "Catur Asrama" Dance by Ketut Suteja

Time

:

8 PM

Place

:

Ksirarnawa Hall

Activity

:

Semara Pagulingan Exhibition Santi Budaya Group Singaraja, Buleleng Regency With Seni Guntur Madu Semara Pagulingan Group, Pujung Village, Pupuan Sub-district, Tabana Regency

Time

:

8 PM

Place

:

Institute Seni Indonesia Open Stage

Activity

:

Joged Bagus Bali Tourism Ambassador Grand Final

Time

:

7.30 PM

Place

:

Open Stage Ardha Candra

Sunday, June 17 2012

Activity

:

Flower and Coconut Leaves Arranging, and Culinary Exhibition

Time

:

10 AM

Place

:

Ksirarnawa

Activity

:

Dance and Music Citarum Group Denpasar

Time

:

11 AM

Place

:

Ayodya stage

Activity

:

Joged Bumbung Exhibition Eka Budaya Joged Group Banjar Sangburni, Pakisan Village, Kubutambahan Sub-district, Buleleng Regency

Time

:

4 PM

Place

:

Ayodya Stage

Activity

:

Performance by GIGI Arts Dance Bandung

Time

:

8 PM

Place

:

Ksirarnwa Hall

Activity

:

Arja Exhibition Semarajaya Group, Klungkung Regency

Time

:

8 PM

Place

:

Ayodya Stage

Activity

:

Documentary Film Review

Time

:

8 PM

Place

:

Institute Seni Indonesia Denpasar

Activity

:

Adult Gong Kebyar Exhibition Puspa Nadi Gamelan Group Suda Kanginan, Kediri Sub-district, Tabanan Regency with Dharma Cita Winangun Gamelan Group, Banjar Linggasana, Bebandem sub-district, Karangasem Regency.

Time

:

8 PM

Place

:

Open stage Ardha Candra

Monday, June 18 20

12

Activity

:

Ramayana Ballet Performance Gunung Kidul Regency Culture and Tourism Office, Yogyakarta

Time

:

11 AM

Place

:

Ratna Kanda Stage

Activity

:

Arja Reconstruction Performance Arja Sampik Group, Banjar Sekarmuti, Petang Badung

Time

:

11 AM

Place

:

Angsoka Stage

Activity

:

Developed Arts Performance Werdhi Mekar Sari Women't Angklung Kebyar Group, Tusan Village, Banjarangkan Sub-district, Klungkung Regency

Time

:

4 PM

Place

:

Ayodya Stage

Activity

:

New Dance Creation Performance from SMKN 5 Denpasar

Time

:

8 PM

Place

:

Ayodya Stage

Activity

:

Balaganjur with Dance Exhibition Badung Regency, Klungkung Regency, Bangli Regency, Buleleng Regency

Time

:

8 PM

Place

:

Institute Seni Indonesia Open Stage

Activity

:

Awarding Ceremony to Maestro Artists accompanied by Gamelan Cendana, Batubulan Village, Sukawati Sub-district, Ginayar

Time

:

8 PM

Place

:

Ksirarnawa Hall

Tuesday, June 19 2012

Activity

:

Joged Pingit Reconstruction Performance Desa Pekraman Tegenungan, Kemenuh Sukawati Sub-district, Gianyar Regency

Time

:

11 AM

Place

:

Angsoka Stage

Activity

:

Joged Bumbung Exhibition Banjar Kuanji Sempidi, Badung Regency

Time

:

4 PM

Place

:

Ayodya stage

Activity

:

Grama Gong Exhibition Tresna Asih Group, South Batur, Kintamani Village, Bangli Regency.

Time

:

8 PM

Place

:

Ayodya stage

Activity

:

Bali Modern Theater Performance Mahima Community, Singaraja, Buleleng

Time

:

8 PM

Place

:

Ksirarnawa Hall

Activity

:

Balinese Song Exhibition Tabanan Regency, Karangasem Regency, Buleleng Regency

Time

:

8 PM

Place

:

Open Stage Ardha Candra

Wednes

day, June 20 20

12

Activity

:

Kuda Lumping Dance Performance Kuda Lumping Group Inorno Turonggo, Magelang Regency Tourism and Culture Office

Time

:

11 AM

Place

:

Angsoka Stage

Activity

:

Developed Arts Performance Saba Sari Group, Blahbatuh Gianyar Regency

Time

:

4 PM

Place

:

Ayodya Stage

Activity

:

Drama Gong Exhibition Dwi Satya Utama Group, Banjar Lambiang, Sibangkaja, Abiansemal, Badung Regency

Time

:

8 PM

Place

:

Ayodya stage
Activity

:

Balinese Song Exhibition Denpasar City, Gianyar Regency, Bangli Regency

Time

:

8 PM

Place

:

Open stage Ardha Candra


Thursday, June 21 20

12

Activity

:

Arts Reconstruction Performance Rare Angon Group, Blungbang, Bangli Regency

Time

:

11 AM

Place

:

Angsoka Stage

Activity

:

Unique Dance Performance from Bungo Regency Culture Tourism Youth and Sports Office

Time

:

11 AM

Place

:

Ayodya Stage
Activity

:

Joged Bumbung Exhibition Taksu Agung Group, Pejeng Kanginan, Tampaksiring, Gianyar Regency.

Time

:

4 PM

Place

:

Ayodya Stage

Activity

:

Mask Creation Performance IHDN Denpasar

Time

:

8 PM

Place

:

Oyodya Stage

Activity

:

Semara Pagulingan Exhibition Semara Pagulingan Group Malinggih Village, Payangan, Gianyar Regency With Gurnita Sari Group, Banjar Pagubugan, Duda Village, Selat sub-district, Karangasem Regency.

Time

:

8 PM

Place

:

Institute Seni Indonesia Open Stage

Activity

:

Balinese Song Exhibition Badung Regency, Jembrana Regency, Klungkung Regency

Time

:

8 PM

Place

:

Open Stage Ardha Candra


Friday, June 22 20

12

Activity

:

Bumbung Krepyak Reconstruction Performance Adultna, Pendem Village, Jembrana Sub-district, Jembrana Regency

Time

:

11 AM

Place

:

Angsoka stage

Activity

:

Bondres Performance Group Gedebong Goyang Jl. Bima 7 Peliatan Ubud, Gianyar Regency

Time

:

11 AM

Place

:

Ayodya Stage

Activity

:

Developed Arts Performance Miniartis Group, Karangasem Sub-district, Karangsem Regency

Time

:

4 PM

Place

:

Ayodya Stage

Activity

:

Traditional Wayang Kulit Exhibition Children Dalang of PEPADI Denpasar City

Time

:

8 PM

Place

:

In Front of Kriya Building

Activity

:

Arja Exhibition Kertya Kencana Group Banjar Buduk, Bengkel, Kediri, sub-district, Tabanan Regency

Time

:

8 PM

Place

:

Ayodya Stage

Activity

:

Women's Gong Kebyar Exhibition Bhaswari Padmanari Gamelan Group, PKK Blahbatuh Sub-district, Gianyar Regency with PKK Srikandi Petak Gamelan Group, Bengkel Village, Busungbiu sub-district, Buleleng Regency

Time

:

8 PM

Place

:

Open Stage Ardha Candra

Saturday, June 23 20

12

Activity

:

Nyastra (Traditional Balinese Writing) Contest

Time

:

10 AM

Place

:

Ksirarnawa Hall, Angsoka, Ayodya and Ratna Kanda Stage

Activity

:

Painting and Coloring Contest

Time

:

11 AM

Place

:

In Front of Kriya Building

Activity

:

Joged Bumbung Exhibition Kesuma Cita Joged Group, Banjar Benaya, Paguyuban Village, North Denpasar Sub-district, Denpasar

Time

4 PM

Place

:

Ayodya Stage

Activity

:

Arja Exhibition Monyer Manis Arja Group, Lelateng Negara Village, Jembrana Regency

Time

:

8 PM

Place

:

Ayodya Stage

Activity

:

Traditional Shadow Puppet Exhibition Wayang Cakuntala Group, Banjar Besang, Ababi Village, Abang Sub-district, Karangasem Regency

Time

:

8 PM

Place

:

In Front of Kriya Building

Activity

:

Documentary Film Review

Time

:

8 PM

Place

:

Institute Seni Indonesia Open Stage

Activity

:

Fusion Music Performance [xxx] and Friends

Time

:

20.00 – 23.00

Place

:

Open stage Ardha Candra

Sunday, June 24 20

12

Activity

:

Teenager Fashion Show

Time

:

10 AM

Place

:

Ksirarnawa Hall

Activity

:

Dance and Music Performance Kartika Mandara PT-CPI DUMAI

Time

:

11 AM

Place

:

Ayodya Stage

Activity

:

Classical Music Performance Jaya Kesuma Gamelan Group Banjar, Gladag, Pedungan Village, South Denpasar Sub-district

Time

:

11 AM

Place

:

Angsoka Stage

Activity

:

Joged Bumbung Performance Braya Kanti Joged Bumbung Group, Banjar Angseri Kelod, Angseri Village, Baturiti Sub-district, Tabanan Regency.

Time

:

4 PM

Place

:

Ayodya Stage
Activity

:

Music Performance Ema Ocarina Group Jepang

Time

:

8 PM

Place

:

Ksirarnawa Hall

Activity

:

Shinto Music and Traditional Japanese Dance Performance Kagura Wadaiko Club, Kyoto Koka Senior High School Japan

Time

:

8 PM

Place

:

Institute Seni Indonesia Denpasar Open Stage

Activity

:

Drama Gong Exhibition Banjar Ujung Drama Gong Group Kesiaman Village, East Denpasar Sub-district, Denpasar City

Time

:

8 PM

Place

:

Ayodya Stage

Activity

:

Children's Gong Kebyar Exhibition Eka Swara Mekar Jaya Gamelan Group, Banjar Pemecutan Kelod, West Denpasar Sub-district Denpasar City with Sila Pertipa Children's Gamelan Group, Banjar Palak, Sukawati, Gianyar Regency.

Time

:

8 PM

Place

:

Open Stage Ardha Candra


Monday, June 25 20

12

Activity

:

Tetantrian Dance Drama Performance Accompanied by Grumbungan Madu Raras Group, Banjar Pujung Kaja, Sebatu Village, Tegalalang Gianyar Regency

Time

:

11 AM

Place

:

Ayodya Stage

Activity

:

Art Performance Bima Regency Culture and Tourism Office

Time

:

4 PM

Place

:

Ayodya Stage

Activity

:

Semara Pagulingan Exhibition Gita Kasta Suara, South Batur Village, Kintamani Bangli Regency with Sangita Mredangga Group, Jembrana Regency

Time

:

8 PM

Place

:

Institute Seni Indonesia Open Stage

Activity

:

Drama Gong Performance Puspa Kencana Bon Bali Drama Gong Group

Time

:

8 PM

Place

:

Ayodya Stage

Activity

:

Women's Gong Kebyar Exhibition Gita Chandra Swari Gamelan Group, Banjar Tanjung Bungkak Kelod, Sumerta Kelod Village, East Denpasar with Gita Wangi Swari Wmen's Gamelan Group, PKK of North Kuta Sub-district, Badung Regency

Time

:

8 PM

Place

:

Open Stage Ardha Candra

Tuesday, June 26 20

12

Activity

:

Ngelawang exhibition Buleleng regency, Klungkung Regency, Badung Regency.

Time

:

11 AM

Place

:

In Front of Kriya Building

Activity

:

Batuan Classic Style Gambuh Performance Yayasan Pusaka Sakti Banjar Pekandelan, Batuan Gianyar Regency

Time

:

11 AM

Place

:

Angsoka Stage

Activity

:

Traditional Shadow Puppet Exhibition Children Puppeter Piluk Jiner Group, Baluk Village, Negara Sub-disctrict, Jembrana Regency

Time

:

8 PM

Place

:

In Front of Kriya Building

Activity

:

Arja Exhibition Makaradwaja Arts Group, Banjar Mukti, Singapadu Gianyar Regency

Time

:

8 PM

Place

:

Ayodya Stage

Activity

:

Modern Balinese Theater Performance Belog Ajum Bangli Group Banjar Geriya Bukit, Bangli Regency

Time

:

8 PM

Place

:

Ksirarnawa Hall

Activity

:

Chidlren's Gong Kebyar Exhibition Kumara Yowana Kerti Gamelan Group, Rendang Village, Rendang Sub-district, Karangasem Regency with Gita Candra Nirwana Gamelan Group, Pikat Village, Sawan Sub-district, Klungkung Regency

Time

:

8 PM

Place

:

Open Stage Ardha Candra

Wednesday, June 27 2012

Activity

:

Baris Wayang Reconstruction Performance Pura Dalem Lumintang Baris Wayang Group, Banjar Lumintang, Pamecutan Kaja Village, North Denpasar Sub-district

Time

:

11 AM

Place

:

Angsoka Stage
Activity

:

Batak Culture and Arts Performance by Ikatan Keluarga Batak-Bali (IKB-B)

Time

:

11 AM

Place

:

Ayodya Stage

Activity

:

Developed Arts Performance Gargita Budaya Gamelan Group, Badung Regency

Time

:

4 PM

Place

:

Angsoka Stage

Activity

:

Traditional Shadow Puppet Exhibition Children Puppeteer Kembang Bali Group, Tunjuk Village, Tabanan Sub-district, Tabanan Regency

Time

:

8 PM

Place

:

In Front of Kriya Building

Activity

:

Audlt Gong Kebyar Exhibition Karang Taruna Widya Dharma Gamelan Group, Kapal Village, Mengwi Sub-district, Badung Regency with Karang Taruna Gita Pramartha Jaya Gamelan Group, Panjer Village, South Denpasar Sub-district, Denpasar city

Time

:

8 PM

Place

:

Arhda Chandra Open Stage


Thursday, June 28 2012

Activity

:

Gong Kebyar Performance Kidergarten, Under supervision of Denpasar City Cultural Office

Time

:

11 AM

Place

:

Angsoka Stage

Activity

:

Joged Bumbung Performance Dwi Tunggal Group, Suwuh Village, Sawan Sub-district, Buleleng

Time

:

4 PM

Place

:

Ayodya Stage
Activity

:

Traditional shadow puppet Exhibition Children Puppeteer Gita Parartha Shadow Puppet Group, Tejakula Village, Buleleng Regency

Time

:

8 PM

Place

:

In Front of Kriya Building

Activity

:

Bondres Performance Salju Group and Sunari Group, Denpasar "Jaya Prana Layon Sari" version of 2012, with payers such as Dadong Rerod, Cilik, Cedil and friends

Time

:

8 PM

Place

:

Ayodya Stage

Activity

:

Collaboration Music Alamkara Bajrajnyana Music Theater None Koled, Blahbatuh, Gianyar

Time

:

8 PM

Place

:

Ksirarnawa Hall

Activity

:

Arts Performance The Jack Quartet and Brian Baumbusch, America Collaboration Mekaradhawaja Group Pimpinan Suasthi Bandem Singapadu, Gianyar Regency.

Time

:

8 PM

Place

:

Open Stage Arhda Candra


Friday, June 29 2012

Activity

:

Musical Composition Performance TRIMBAT by Banjar Menak Gamelan Group, Roban and Pande, Tulikup Village, Gianyar Regency

Time

:

11 AM

Place

:

Ayodya Stage

Activity

:

Tetekan Performance Kerambitan, Tabanan Regency

Time

:

4 PM

Place

:

Ayodya Stage
Activity

:

Traditional Shadow Puppet Exhibition Children Puppeteer I Made Tangkas Arta Wiguna, SD 2 Badung

Time

:

8 PM

Place

:

In Front of Kriya Building

Activity

:

Collaboration Performance between Noh Mask of Japan with Balinese traditional arts Setagaya-ku Tokyo Japan and WBC Cudamani Group, Pengosekan Village, Ubud, Gianyar Regency

Time

:

8 PM

Place

:

Ksirarnawa Hall

Activity

:

Balaganjur with dance Exhibition Denpasar City, Jembrana Regency, Gianyar Regency, Tabanan Regency, Karangase Regency

Time

:

8 PM

Place

:

Institute Seni Indonesia Denpasar Open Stage

Activity

:

Adult Gong Kebyar exhibition Panji Ulangun Santi Group, Tihingan Village, Banjarangkan Sub-district, Klungkung Regency with Loka Swara Gong Kebyar Gamelan Group, Keladian, Dauhwaru village, Jembrana sub-district, Jembrana Regency

Time

:

8 PM

Place

:

Open stage Ardha Candra


Saturday, June 30 201

2

Activity

:

Crafts Contest

Time

:

10 AM

Place

:

Ratna Kanda stage

Activity

:

Traditional Dance, Music and Songs Performance from Minang Bukit Tinggi City Culture and Tourism Office

Time

:

11 AM

Place

:

Ayodya Stage

Activity

:

Developed Performance Batukaru Group Banjar Wangaya, Penebel Sub-district, Tabanan Regency 

Time

:

4 PM

Place

:

Ayodya Stage

Activity

:

Drama Gong Exhibition Drama Gong Group of Banjar Ujung, Kesiman Group, East Denpasar Sub-district, Denpasar city

Time

:

8 PM

Place

:

Ayodya Stage

Activity

:

Traditional shadow puppet Exhibition Children Puppeter Kamajaya Arts Group, Jl. Sedap Malam II No 11 Denpasar

Time

:

8 PM

Place

:

In Front of Kriya Building

Activity

:

Dance Performance of foreign dancers accopanied by Iswaram Gamelan Group, Karangasem Regency

Time

:

8 PM

Place

:

Ksirarnawa Hall

Activity

:

Document Film Review

Time

:

8 PM

Place

:

Institute Seni Indonesia Denpasar

Activity

:

Women's Gong Kebyar Exhibition Sekar Agung Gamelan Group, Sangkar Agung Village, Jembrana Sub-district, Jembrana Regency with Dance and Music of Lestari Group (as sparring group) J. Antasura Banjar Tanggun Titi, Tonja Denpaar.

Time

:

8 PM

Place

:

Open Stage Ardha Candra

Sunday, July 01 2012

Activity

:

Ngelawang Exhibition Denpasar City, Jembrana Regency, Tabanan Regency, Karangasem Regency, Bangli Regency

Time

:

11 AM

Place

:

In Front of Kriya Building

Activity

:

Traditional Dance Performance Santa Laurensia School, Perumahan Alam Sutra, Serpong Tanggerang

Time

:

11 AM

Place

:

Ratna Kanda Stage

Activity

:

Developed Arts Performance of Jegog and Mebarung Dance Yudistira Group and Danu Suara Group, Jembrana Regency

Time

:

4 PM

Place

:

In Front of Kriya Building

Activity

:

Traditional Shadow Puppet Exhibition Children Puppeter Paripurna Group, Banjar Bona, Blahbatuh, Gianyar Regency

Time

:

8 PM

Place

:

In Front of Kriya Building

Activity

:

Modern Balinese Theater from Group Teatre Diji, Tabanan Regency

Time

:

8 PM

Place

:

Ksirarnawa Stage

Activity

:

Arja Exhibition Cita Usadi Group, Mengwitani, Badung Regency

Time

:

8 PM

Place

:

Ayodya Stage

Activity

:

Adult Gong Kebyar Exhibition Anturan Village Gamelan Group, Buleleng Sub-district, Buleleng Regency With by Jimbaran Village Gamelan Group (as the sparring group), Badung Regency

Time

:

8 PM

Place

:

Open Stage Ardha Candra

Monday, July 02 2012

Activity

:

Dance and Music Creation Siwer Nadi Swara Group Jl. Plawa 92 Denpasar

Time

:

11 AM

Place

:

Ratna Kanda Stage

Activity

:

Dance and Music Performance Anyalos Dance Group SMP Negeri I Ratahan, Southeast Minahasa Regency

Time

:

11 AM

Place

:

Ayodya Stage

Activity

:

Developed Arts Performance Sancaya Kanti Gamelan Group, Kesiman Village, East Denpasar Sub-district, Denpasar City

Time

:

4 PM

Place

:

Ayodya Stage

Activity

:

Drama Gong exhibition Kuta Citta Budaya Drama Group, Banjar Uma Kuta, Pejeng Kangin Gianyar

Time

:

8 PM

Place

:

Ayodya Stage

Activity

:

Calonarang Dance Drama Performance Gita Mahardika Arts Group, Banjar Babakan, Sukawati, Gianyar Regency

Time

:

8 PM

Place

:

Ksirarnawa Hall

Tuesday, July 3 2012

Activity

:

Bondresan Performance Physically Disabled Rwa Bhineda Arts Group Jl. Serma Mendra No. 3 Sanglah Denpasar

Time

:

11 AM

Place

:

Angsoka Stage

Activity

:

Modern Balinese Theater Performance PALAWARA Theater Group, Banjar Tanjung Bungkak Kaja, South Sumerta Village, Denpasar Sub-district.

Time

:

8 PM

Place

:

Ksirarnawa Hall

Activity

:

Prembon Performance IKIP PGRI Bali Jl. Seroja, Denpasar

Time

:

8 PM

Place

:

Ayodya Stage

Activity

:

Documentary Film Review

Time

:

8 PM

Place

:

Institute Seni Indonesia Denpasar

Activity

:

Performance by Narwastu Music and Dance Foundation Jl. Danau Batur No. 3 Sanur Bali

Time

:

8 PM

Place

:

Ksirarnawa Hall

Wednesday, July 04 2012

Activity

:

Dance Drama Performance "Cupak Mulat Sarira" Mas Putu Baru Arts Group, Baru Village, Marga Sub-district, Tabanan Regency

Time

:

11 AM

Place

:

Angsoka Stage

Activity

:

Unique Dance Performance from Ternate City Culture and Tourism Office

Time

:

11 AM

Place

:

Ayodya Stage

Activity

:

Joged Bumbung Performance Darma Santi Group Bila Village, Kubutambahan Sub-district, Buleleng Regency

Time

:

4 PM

Place

:

Ayodya stage

Activity

:

Arja Exhibition Taman Sari Budaya Arts Group, Banjar Payuk, Peninjauan, Tembuku

Time

:

8 PM

Place

:

Ayodya Stage

Activity

:

Modern Balinese Theater Performance Galang Kangin Smandapura Modern Balinese Theater Group, Karangasem Sub-district, Karangasem

Time

:

8 PM

Place

:

Ksirarnawa Hall

Activity

:

Children's Gong Kebyar exhibition Abdi Budaya Gamelan Group, Banjar Anyar-anyar, Perean Kangin, Baturiti Sub-district, Tabanan Regency with Children's Gamelan Group from Padangsambian Village, West Denpasar as the sparring group

Time

:

8 PM

Place

:

Open Stage Ardha Candra

Thursday, July 05 2012

Activity

:

Mask Creation Performance Topeng Panca Kanda Eka Suara Murti Group, Banjar Angabaya, Penatih Village, East Denpsar Sub-district

Time

:

11 AM

Place

:

Angsoka Stage

Activity

:

Gambuh Reconsturction Performance Yowana Pura Sari Abangan Gambuh Group, Bungkulan village, Sawan Sub-district, Buleleng Regency

Time

:

11 AM

Place

:

Ayodya Stage

Activity

:

Puppet Creation Performance by Children's Puppeteer I Wayan Anom Candrayana Candra Mas Group, Banjar Tegalinggah, Bedulu Village, Blahbatuh, Gianayar Regency

Time

:

8 PM

Place

:

In Front of Kriya Building

Activity

:

Mucical Concert Performance with the theme East Meets West WINDHA ENSEMBLE Leader I Nyoman Winda

Time

:

8 PM

Place

:

Ksirarnawa Hall

Activity

:

Dance Fragment Performance Surya Chandra Arts Group, Puri Gede Karangasem Jl. Patih Jelantik Amlapura

Time

:

8 PM

Place

:

Ayodya Stage

Friday, July 06 2012

Activity

:

Bali Arts Festival Workshop

Time

:

10 AM

Place

:

Monument of Struggle Badjra Sandhi

Activity

:

Arja Negak Arsa Ratna Swari Women's Gong Gede Gamelan Group Jl. Meduri Gg. V No.7 Abian Kapas Kaja, Denpasar

Time

:

11 AM

Place

:

Ayodya Stage

Activity

:

Developed Arts Performance Darma Kanti Genjek Creation Group, Pangkung Paruk Village, Seririt Sub-district Buleleng Regency

Time

:

4 PM

Place

:

Angsoka Stage

Activity

:

Arja Exhibition Yowana Werdhi Arja Group, Banjar Batanbuah, Kesiman Petilan, Denpasar City

Time

:

8 PM

Place

:

Ayodya Stage

Activity

:

Dance and Music Performance Wyarihita Group from Japan and LKB Saraswati Group, Banjar Kutri, Singapadu

Time

:

8 PM

Place

:

Ksirarnawa Hall

Activity

:

Modern Drama Musical Performance PRAMUSTI BALI

Time

:

8 PM

Place

:

Open Stage Ardha Candra

Saturday, July 07 2012

Activity

:

Unique Dance Performance from Jember Regency Tourism and Culture Office

Time

:

11 AM

Place

:

Angsoka Stage

Activity

:

Unique Dance Performance from Yogyakarta Culture Office

Time

:

4 PM

Place

:

Angsoka Stage

Activity

:

Gong Kebyar Nusantara Exchibition ISI Surakarta with ISI Yogyakarta

Time

:

8 PM

Place

:

Ksirarnawa Hall

Activity

:

Traditional Shadow puppet exhibition Children Puppeteer Kepucuk Group, Banjar Demulih, Susut, Bangli Regency

Time

:

8 PM

Place

:

In Front of Kriya Building

Activity

:

Drama Gong Exhibition Pascima Dwipa Budaya Drama Gong Group, Jembrana Regency

Time

:

8 PM

Place

:

Ayodya Stage

Activity

:

Semara Pagulingan Exhibition Kasuma Jaya Semara Pagulingan Group, Banjar Abian Kapas Kaja, Sumerta Village, East Denpasar, Denpasar City with Semara Pagulingan Gamelan Group from South Kuta, Badung Regency

Time

:

8 PM

Place

:

Institute Seni Indonesia Denpasar Open Stage

Sunday, July 08 20

12

Activity

:

Unique Dance Performance from Balikpapan Board of Arts

Time

:

11 AM

Place

:

Ratna Kanda Stage

Activity

:

Dance Performance from Buol Regency, Central Sulawesi Province Culture and Tourism Office

Time

:

11 AM

Place

:

Ayodya Stage

Activity

:

Joged Bumbung Exhibition Kusuma Sari Group, West Sraya Village, Karangasem Sub-district, Karangasem Regency

Time

:

4 PM

Place

:

Ayodya Stage

Activity

:

Documentary Film Review

Time

:

8 PM

Place

:

Institute Seni Indonesia Denpasar

Activity

:

Ethnic Music Collaboration with Group EMONI Bali Denpasar

Time

:

8 PM

Place

:

Ksirarnawa Hall

Activity

:

Women's Gong Kebyar Exhibition Ardha Naraswari Gamelan Group, Banjar Ole, Dauh Puri, Marga Sub-district, Tabanan Regency with Swari Kalanguan Gamelan Group, Banjar Pagubugan, Duda Village, Selat Sub-district, Karangasem Regency

Time

:

8 PM

Place

:

Open Stage Ardha Candra

Monday, July 09 20

12

Activity

:

Gending Rare Accompanied by Gender Gangsa Dewa Karawitan Gender Wayang Group Jl. Lembu Sura, Banjar Poh Gading Ubud Kaja Denpasar

Time

:

11 AM

Place

:

Angsoka Stage

Activity

:

Joged Bumbung Exhibition Banjar Jelekungkang Joged Group, Bangli Regency

Time

:

4 PM

Place

:

Ayodya Stage

Activity

:

Arja Performance Siwa Ratri Group, Banjar Biya, Keramas, Blahbatuh, Gianyar Regency

Time

:

8 PM

Place

:

Ayodya Stage

Activity

:

Closing of the Bali Arts Festival, Colosal Ballet Performance of the Provincial Government of Bali "Nila Candra Ngeka Suwarga" by SMKN 3 Sukawati

Time

:

8 PM

Place

:

Open Stage Ardha Candra